Twitter

Instagram

Facebook | QLD | NSW | VIC | TAS | SA | WA | NT | NZ
---
Record November heat over Western Australia - set to move east
15 November 2019
An incredibly hot airmass for November is building over Western Australia, which is likely to see records tumble over the weekend and early next week as temperatures soar into the mid 40s.
A slow-moving heat trough is currently residing over WA and has been producing temperatures reaching into the mid-to-high 30s the last few days, with Perth experiencing its third consecutive day above 35 degrees.
Tomorrow, the heat will begin to clear the west coast, although Perth may reach 35 degrees, which would make it four consecutive days above 35 degrees, which hasn't occurred in November since 1933. However, the airmass will intensify even further over the weekend, with Kalgoorlie forecast to reach 44-45 degrees on Sunday, which would smash its previous record of 42.7 degrees.
Ravensthorpe is also forecast to reach 42 degrees on Sunday, which would challenge its current record of 42.1 degrees, whilst other towns, including Norseman, Meekatharra, Southern Cross, Leonora and Lake Grace are all expected to reach new November records.
The bad news is this heat is expected to begin sweeping east from Tuesday due to a cold front, which is also expected to be associated with strong winds which will cause dangerous fire weather.
While a while away, there are indications Adelaide could challenge its November record on Wednesday with potential for it to reach into the low-to-mid 40s. Inland parts of SA, NSW and much of Victoria are also expected to experience very hot conditions on Wednesday where records may be challenged.
Current indications suggest that while the airmass will remain hot, it will break down somewhat over fire affected regions as the system encounters some moisture. This may lead to the development of showers and thunderstorms, although it is too early to tell if these will contain much rain.
A strongly positive Indian Ocean Dipole (IOD) - whereby waters over the Indian Ocean are cool in the east (near Australia) and warm in the west, has been a significant culprit in the unusually hot airmass (and in the nation's drought in general). When in a positive phase of the IOD, moisture over the nation's west is much lower, resulting in minimal cloud cover and allowing heat to build without interference. Any cold front or trough can then pick this heat up and drag it across the country.
The positive IOD is expected to break down into summer along with the onset of the monsoon, with long term forecasts hinting at a return to near average rainfall and cloudiness from January.
Image 1: OCF Forecast temperatures across Western Australia on Sunday 17 November, 2019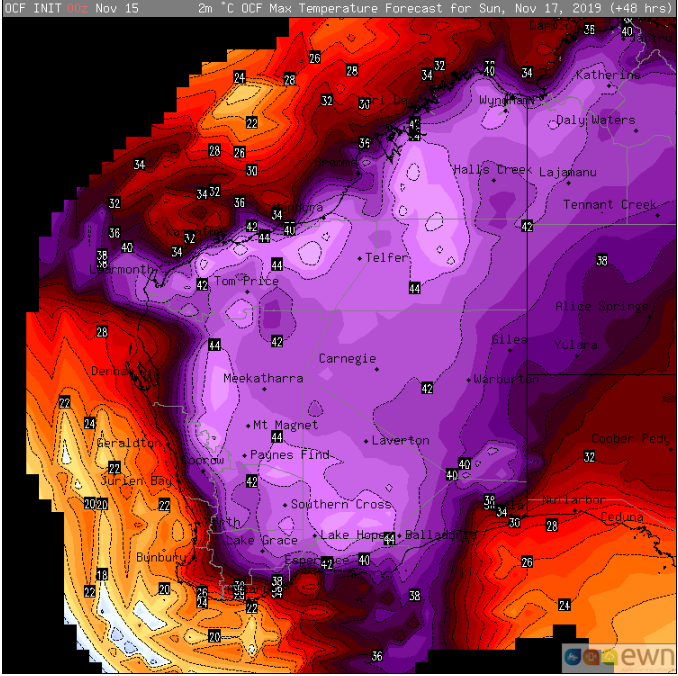 Image 2: OCF Forecast temperatures across Eastern Australia on Wednesday 20 November, 2019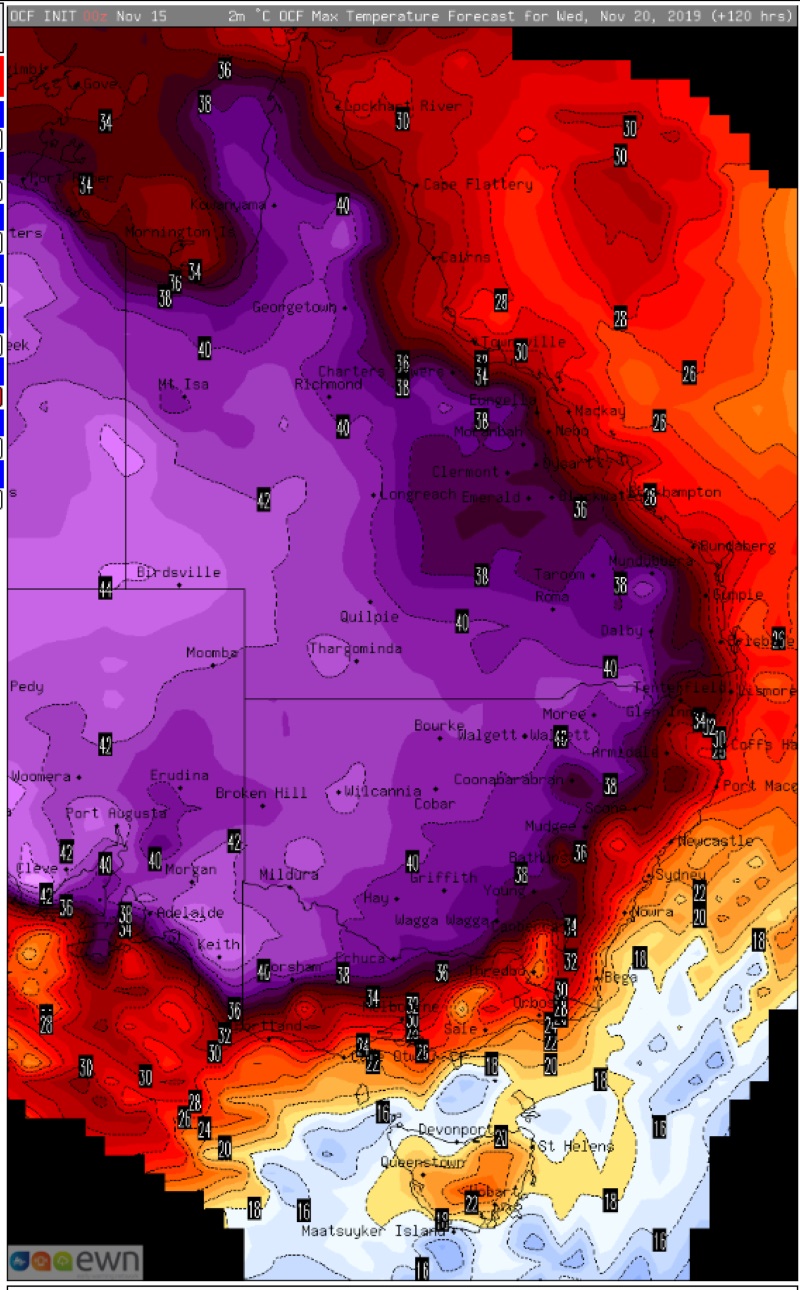 ---