Twitter

Instagram

Facebook | QLD | NSW | VIC | TAS | SA | WA | NT


Southwest WA lashed by wild weather overnight
25 May, 2018
Southwestern parts of Western Australia copped it all last night, as wild winds, heavy rain, thunderstorms and bushfires lashed the region due to a vigorous cold front.
Unseasonably warm conditions during much of Thursday quickly deteriorated as the front hit the west coast during the late afternoon and early evening before spreading rapidly east overnight.
Numerous fires were already burning across the state, however things quickly got out of control as strong winds (which were strongest just ahead of and on the frontal boundary) caused a number of these fires (including private burns) to move erratically spread rapidly. The strongest wind gusts reported included 113km/h at Cape Naturaliste and Gnowangerup and 102km/h at Albany Airport.
The winds were strong enough that numerous spot fires were caused, with embers reported to have carried as much as 1.5km away from the main fires. Other blazes were sparked due to lightning strikes.
Heavy rainfall significantly helped firefighters in more coastal areas, where widespread falls of 20-to-50mm were recorded. Some areas were lucky to receive even more, with Acton Park receiving 94mm, Vasse 81mm and Busselton Airport 67mm.
A low pressure system will continue to cause wild winds and showers across the region today, with conditions expected to be at their worst this afternoon and evening. Wind gusts of 90-100km/h are possible, with potential for localised gusts in excess of 125km/h in coastal parts between Bunbury and Walpole.
Images: (a) Wind gusts and pressure chart for southwest Western Australia on Friday 25 May (Source: Windy.com)
(b) Rainfall totals recorded to 9am Friday 25 May (Source: Bureau of Meteorology)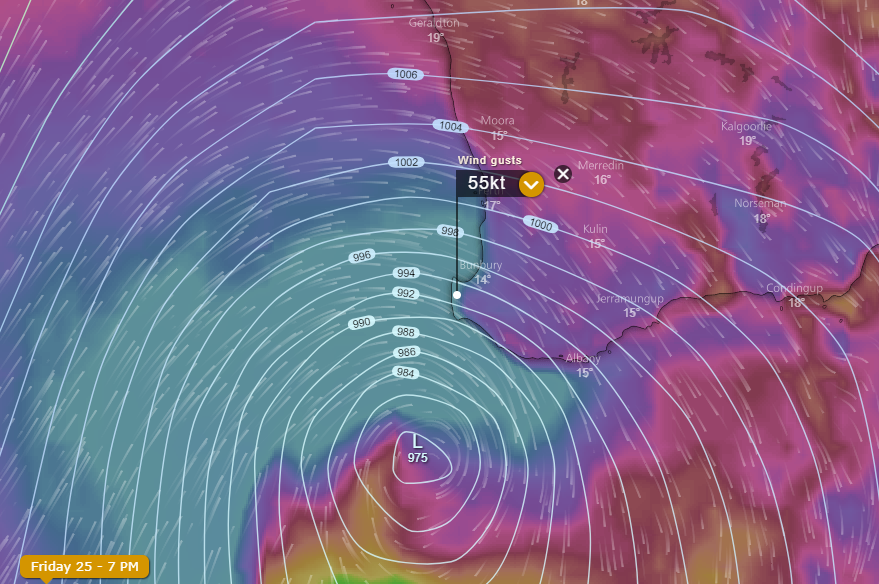 ---
Vigorous cold front to snap record warmth in southwest WA
23 May, 2018
The run of record May warmth over southwest WA is set to be snapped late tomorrow as a strong cold front sweeps across the region, bringing damaging winds, thunderstorms and heavy rainfall.
Southwest parts of Western Australia have been enjoying well above average temperatures for much of the month, with Perth now experiencing 15 consecutive days above 24 degrees (16 by tomorrow).
It has also been very dry, with only 6.2mm falling the state?s capital so far this month. Although this has been great for beach goers, May is typically the time of year where rainfall increases as cold fronts become more active.
However, things will take a sharp turn tomorrow as a deep low pressure system and associated cold front approach the area.
Ahead of the system, it will be very warm with maximum temperatures pushing into the high 20s, and northerly winds becoming strong and gusty, elevating fire danger.
The front will impact the west coast by late in the afternoon, causing heavy rainfall, the risk of thunderstorms, and winds to increase further with gusts reaching 90-110km/h, with localised stronger gusts possible in any showers and thunderstorms. These conditions will spread east across the state into Thursday evening and Friday.
Widespread totals of 20-to-40mm are likely, with some areas likely to receive 50-to-60mm, with potential for flash flooding.
Temperatures will plummet in the wake of the change, with maximum temperatures in the mid-to-high teens expected across the southwest on Friday, before returning close to average over the weekend.
Image: Wind gusts and pressure chart for southwest Western Australia early Friday morning (Source: Windy.com)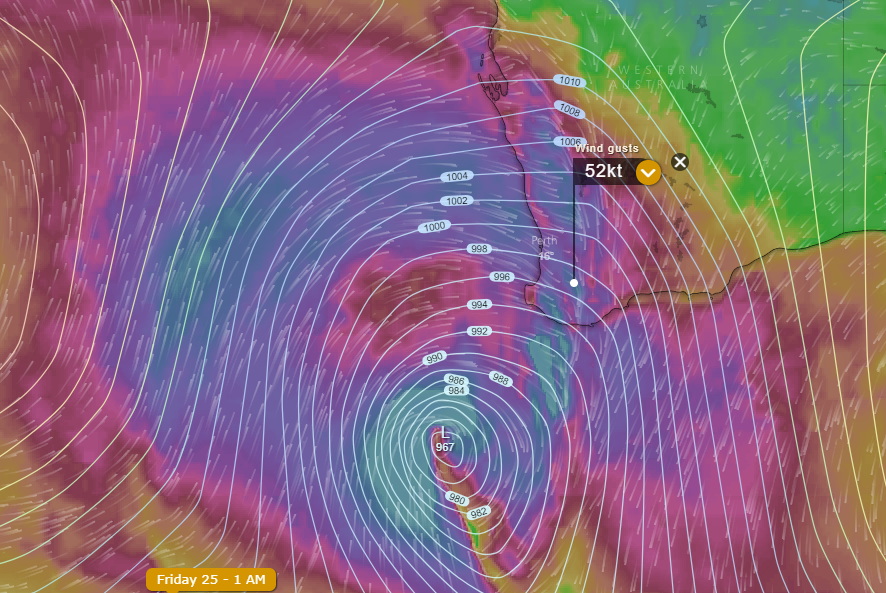 ---
Destructive winds lash Tasmania
22 May, 2018
A vigorous cold front swept through Tasmania last night and this morning, causing significant damage as wind gusts clocked close to 150km/h.
The southeast of the state was hardest hit, with Hobart recording wind gusts of up to 113km/h (its strongest in almost two years), whilst Mt Wellington was buffeted by wind gusts of 148km/h around 10am this morning.
The winds led to significant damage, with boats breaking their moorings, rooves blown off, windows shattered and trees and powerlines being felled. Power was cut to more than 2500 homes.
A tight pressure gradient between a high over the Bight and the front contributed to the destructive winds experienced.
It has been a month of severe weather for some parts of Tasmania, with record May rainfall falling in several areas, including Hobart, just a week and a half ago. This has been very different to the remainder of Australia, that has been dominated by persistent dry weather.
Another front will cross the state tomorrow, producing potential for wind gusts of up to 90-120km/h in exposed coastal and elevated areas in the state?s south, however the wind gusts are unlikely to be as widespread or sustained, meaning damage potential will be much lower.
Images: Wind gusts and pressure gradient chart for southern Australia (Source: Windy.com)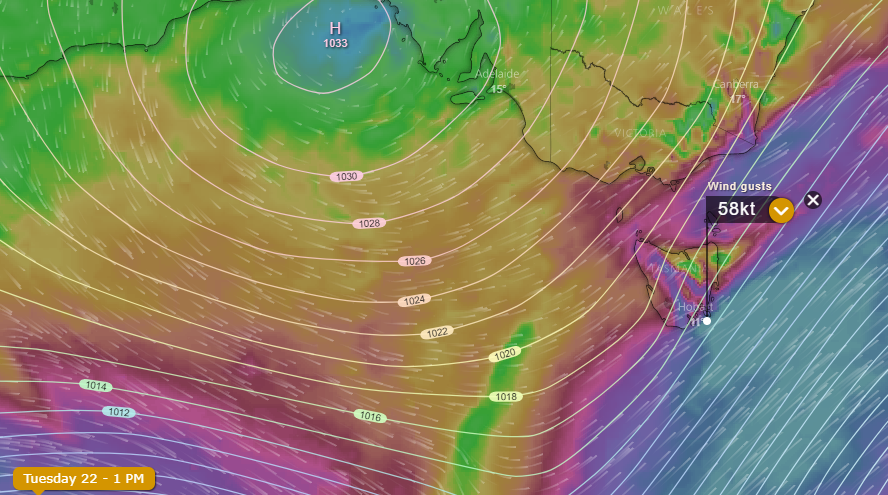 ---
Winter weather outlook
19 May, 2018
The Bureau of Meteorology released its winter weather outlook yesterday, revealing a mixed bag for the country during the next few months.
The nation's main climate drivers - the El Nino Southern Oscillation and Indian Ocean Dipole, are both currently neutral, meaning there is no strong indication towards a wetter or drier (or warmer or cooler) winter for most of the country.
However, warm temperatures over the Tasman Sea may lead to enhanced rainfall over eastern Victoria and eastern Tasmania, whilst rainfall is expected to be lower over southwest Western Australia due to weaker than average westerly winds.
Meanwhile, temperatures are expected to be warmer than average across southwest and southeastern Australia due to high pressure expected to lie further south than normal, leading to reduced frontal activity. However, cooler than average night time temperatures are more likely in northern Queensland.
With the background warming trend across the country, those in neutral areas are more likely to see temperatures warmer than average rather than cooler than average.
Images: Temperature and rainfall outlooks for the June-August Period (Australia Bureau of Meteorology)
---
Perth's turn to cop record late autumn warmth
17 May, 2018
Whilst the east of the nation has finally cooled to near-average May temperatures, the west of the nation is basking in record warmth this late in autumn.
Perth will record its ninth consecutive day of 24 degrees and above today, a record for this late in autumn. And the end of this spell not in sight until at least next Wednesday or Thursday, making the spell likely to last at least 15 or 16 days.
This spell included 32.7 degrees last Saturday, record heat for this late in May.
The warmth is being caused by a prolonged period of high pressure, leading to a lack of any frontal activity. Generally at this time of the year, cold fronts become more active in the southwest, keeping warmth in the north of the state.
Whilst beach goers won?t be complaining, this lack of frontal activity also means the city is enduring very dry conditions, with only 6.2mm recorded so far, amongst the driest on record.
Models indicate a cold front will push through from next Thursday, bringing cooler conditions and hopefully some decent rain.
Image: Maximum temperature anomalies for Western Australia across the last seven days
---
Cut-off low to bring highland snow, heavy rain and strong winds to southeastern Australia
8 May, 2018
Southeastern Australia is about to cop a wintry blast as a cut-off low pressure system impacts the region mid-to-late this week.
Cut-off lows in Australia are defined as low pressure systems that have broken away and become displaced from the main belt of low pressure (and westerly winds) which lie to the south of the nation.
The system will be associated with temperatures more typical of mid-winter, highland snow, heavy rainfall and strong winds, and will be felt as early as Wednesday evening across Tasmania, southern Victoria and southeastern parts of South Australia. These conditions will then spread across the remainder of southeastern Australia throughout Thursday and Friday.
There is potential for the coldest temperatures this early in the year for several decades in some areas, with Melbourne struggling to reach 13-14 degrees on Thursday and Friday, Canberra 9 degrees on Friday, whilst Sydney will struggle to reach the high teens on Friday and Saturday. Wind chill will make it feel even colder than this.
Ample amounts of moisture will mean the ski resorts will see a significant dumping of snow, whilst snow will fall as low as 900 metres in New South Wales, which has potential to extend as far north as the Northern Tablelands (although less likely to settle).
The cold air will spread all the way up to Queensland, with the persistent humid, showery conditions on the coast of recent times set to be replaced by much drier westerly winds. Brisbane will chill below 10 degrees each night over the weekend (the coolest since September), whilst Mackay will dip into the low teens.
Depending on the formation of a surface low, there could also be significant rainfall, particularly across southern NSW, eastern VIC and eastern TAS where some models indicate potential for more than 50-100mm across several days.
Conditions will gradually improve from Sunday onwards as the system moves east and is replaced by a high pressure region.
Image: Synoptic chart and forecast precipitation for Australia at 00z Friday 11 May, 2018
---
Another run of record April heat finally ends over Adelaide
24 April, 2018
Adelaide has notched up another April record after enduring five consecutive days of temperatures exceeding 30 degrees.
A slow-moving trough filtered a very warm airmass over South Australia, including the state capital between Thursday last week and Monday, with the mercury cracking 30 degrees each day in this spell.
Whilst no individual heat records were set in this spell (the hottest day was 32.2 degrees at Kent Town site on Friday), the longevity of the heat was highly unusual for April.
Only twice before in the city's history had 30 degrees been exceeded on five consecutive days on April, however these both occurred earlier in the month, with this latest spell making it the latest this type of heat has been experienced in autumn since records began.
Along with large parts of Australia, this latest spell of heat is just something else to add to a month that has been characterised by record heat. The West Terrace site broke its previous April record twice this month on the 9th and again the 11th, reaching 36.3 degrees, whilst mean maximum temperatures are running five degrees above average.
The end of the month will see temperatures drop closer to average in the wake of a cool change, meaning the city is likely to just fall shy of a record hot April.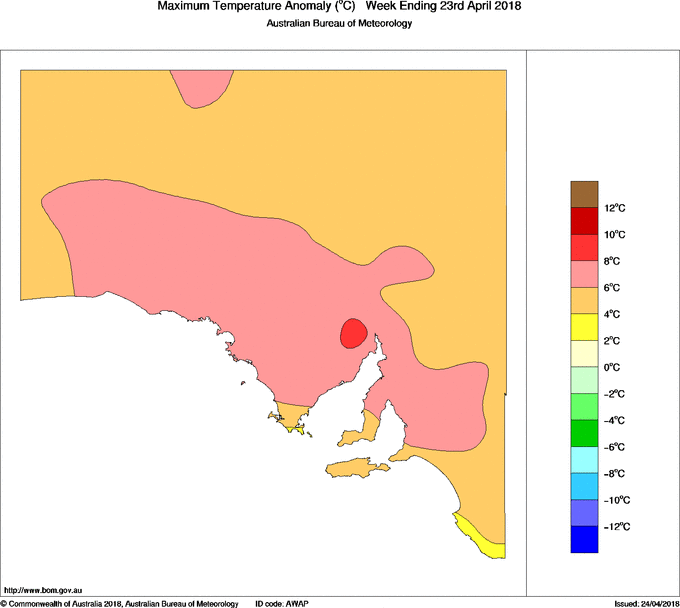 ---
Showers and thunderstorms drop much needed rain over NSW
20 April, 2018
Thunderstorms flared up across central and northern New South Wales yesterday afternoon, bringing heavy rainfall as well as some reports of hail.
A low pressure trough fed by warm and humid onshore winds caused the storms to flare up from the afternoon, with the most widespread activity across the Central Tablelands, Mid North Coast, North West Slopes & Plains and Upper Western districts.
Whilst there were reports of small hail from Bathurst and in parts of the Hunter valley, the thunderstorms mainly brought much needed rainfall.
Over central-east NSW, some standout totals in the 24 hours to 9am included:
Broke: 35mm
St Albans: 46mm
Eleebana (Lake Macquarie): 35mm
Williamtown: 27mm
Nelson Bay: 26mm
Meanwhile, in northwest NSW Brewon recorded 70mm in the 24 hours to 9am today, whilst Lightning Ridge picked up 27mm and Barraba 28mm.
Showers and storms have cleared the regions today as the trough moves into northeast NSW and QLD.
Image: Rainfall in the 24 hours to 9am today (Source: Bureau of Meteorology)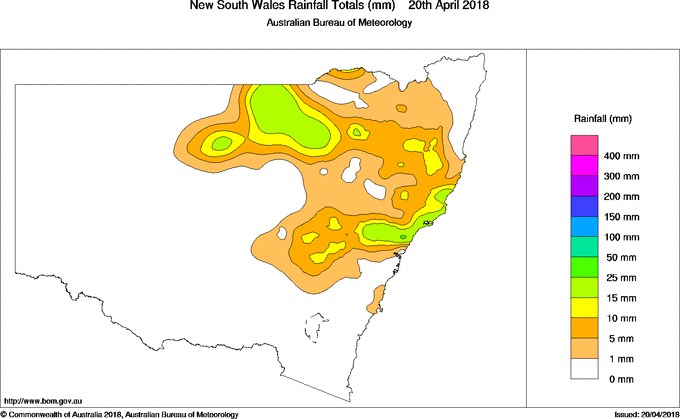 ---
Western Australia to see first significant cold front of the season over the weekend
20th April, 2018
A low pressure system to the south of WA and associated cold front will sweep across south-western parts of the state from Saturday into Sunday with increasing instability.
Overnight Saturday into Sunday a large band of showers, rain period and thunderstorms stretching from Geraldton down to Albany are expected to develop along the advancing cold front..
A few thunderstorms are likely to be severe and capable of producing damaging winds, frequent cloud-to-ground lightning and the potential for hail thanks to the cold upper level temperatures associated with this system. Areas of moderate to locally heavy falls will also be possible with activity over the weekend.
During Sunday conditions should gradually improve, however showers likely to persist with gusty onshore winds. Conditions should become fine with slightly warmer temperatures early to mid week.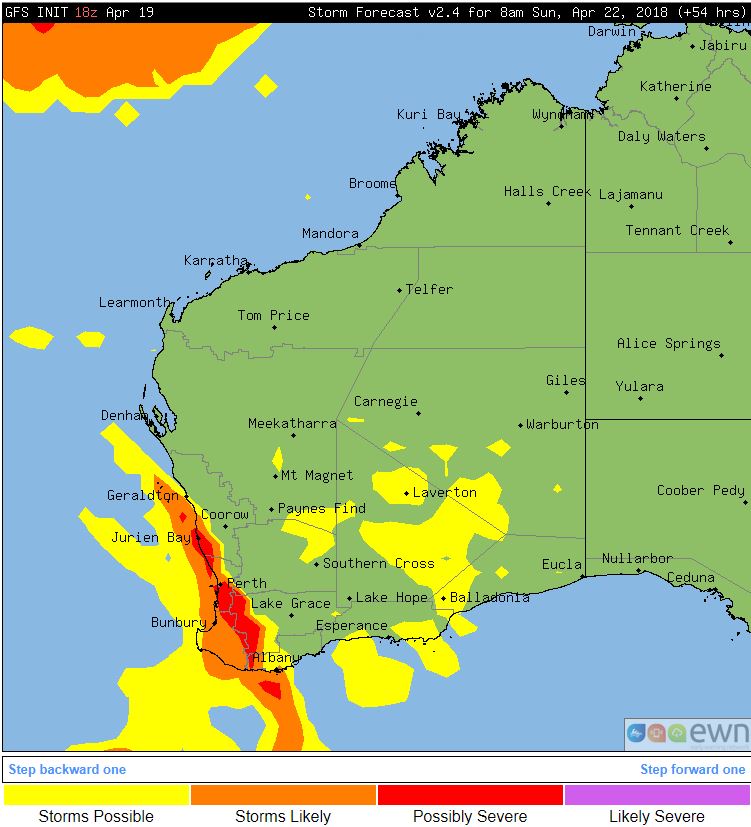 ---
Southern states finally getting a taste of autumn, but balmy conditions returning soon
18 April, 2018
Parts of Victoria are finally tasting autumn as chilly conditions grip the region after an unusually warm start to the month. However, balmy conditions are set to return over the next few days.
Temperatures have generally only been reaching the mid-to-high teens since a strong cold front struck the region over the weekend. The change was a welcome relief from earlier in the month when the mercury pushed into the high 20s to mid 30s.
The mornings have been noticeably chilly with some areas seeing their coldest April mornings since 2009, as a high pressure ridge (leading to clear skies and light winds) has combined with the cooler airmass over the region.
Melbourne dropped to just 6.2c this morning, and Essendon 3.2c, their coolest April morning 2009 (which saw a record cold stretch of cold mornings in many parts of TAS and VIC).
Hobart dipped to 5.1c this morning, which was its fourth consecutive night below 7 degrees, the first such stretch in April since 2009.
However, the warmth will return quite quickly, with Melbourne set to experience some unusual late season heat again, climbing to 27 degrees on Friday and 25 degrees by Saturday, with temperatures in the low-to-mid 20s persisting late into the month.
Hobart will climb into the low 20s by Friday, with similar temperatures also persisting late into the month.
There are some indications a substantial front may lead to significant cooler conditions late in the month.
Image: Maximum temperature forecasts from the OCF model across VIC and TAS on Friday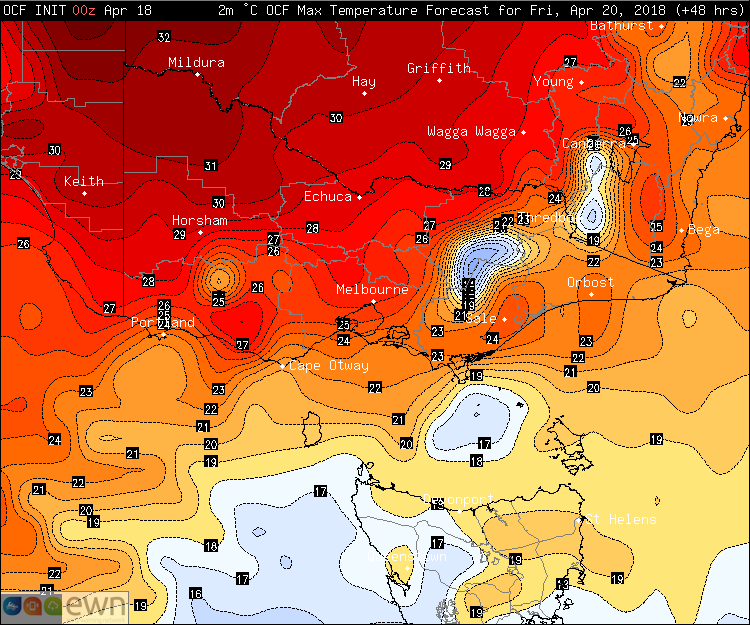 ---
Heavy showers and storms drenching northeast NSW and southeast QLD
18 April, 2018
Showers and storms developed over northeast New South Wales early this morning, before moving into southeast QLD later during the morning and afternoon, bringing heavy falls to the coastal plain and ranges.
The band developed around 3am EST, propagating gradually north throughout the day. As it moved through the Lismore, Byron and Tweed areas, there was torrential falls. Notable totals to 9am today included 62mm at Clothiers Creek, 65mm at Mullumbimby and 89mm at Nashua (Wilsons River).
Whilst most parts of Brisbane missed out, the Sunshine Coast began to experience heavy falls later in the morning and into the afternoon.
Falls have generally been in the 15-to-30mm range, however heavier totals of around 60mm have been recorded around the Glasshouse Mountains, including 59mm at Beerwah.
Lightning strikes have been significant enough to cause some power outages across the area.
---
Heat records continue to fall in NSW and VIC, but relief in sight
13 April, 2018
Yesterday saw another day of record breaking heat across New South Wales and northern Victoria, with little change expected today. Thankfully, relief is on the way as a cooler change sweeps across the country over the weekend.
A record-breaking hot airmass that originated in the northwest of the country more than two weeks ago has been smashing heat records throughout April, with yesterday being one of the standout days across NSW and VIC.
Both minimum and maximum temperature records fell, however some notable records included 36.1 degrees at Merimbula, and 36.4 degrees at Gabo island, breaking its previous record of 35.0 degrees (records since 1910). Sydney reached 34.6 degrees, its second hottest April day on record, falling short of the 35.4 degrees set just several days ago.
Records have already fallen today, with Sydney Airport registering its highest April minimum on record (23.0 degrees), whilst Ulladulla dropped to only 23.6 degrees overnight, its highest minimum temperature on record for any month (26 years of records). Maximum temperatures will again be well above average today, with many areas reaching the low-to-mid 30s across NSW.
Thankfully, relief is spreading across southeastern Australia as a strong cold front sweeps across the region, bringing with it strong winds, rain and thunderstorms and much cooler temperatures. Melbourne will reach just 19 degrees tomorrow, and Canberra 18 degrees by Sunday. Sydney will cool to the mid 20s by Sunday, before dropping into the low-to-mid 20s by mid next week.
Regardless of what happens for the remainder of the month, this April will challenge strongly for the hottest April on record across the country.
Image: Maximum temperature anomalies across Australia for the week ending 12th April, 2018 Source: Bureau of Meteorology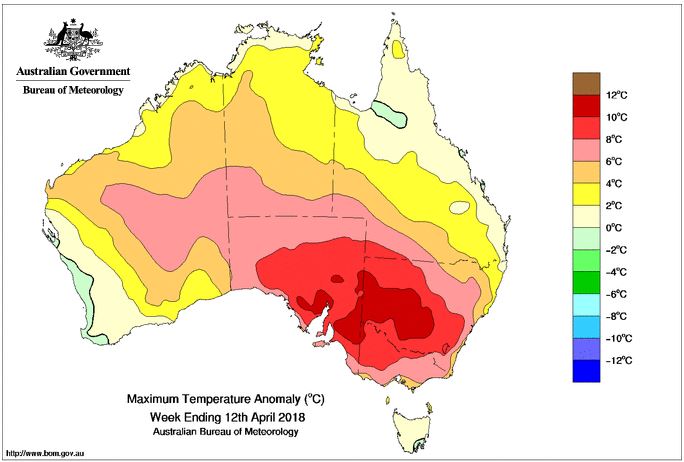 ---
April heat records tumble over southeastern Australia
10 April, 2018
April records were smashed yesterday over southeastern Australia as a mid-autumn heatwave continues to grip the region.
A lack of frontal activity combined with clear skies is allowing a large pool of heat to sit over the region, with temperatures more typical of summer than autumn.
Sydney's Observatory Hill broke its previous April record of 34.2 reaching 35.4 just after 2pm yesterday afternoon. Sydney Airport also broke its record, eclipsing the previous hottest April day of 35.7 (set in 1986) with 36.8 degrees just after 2pm.
South Australia didn't want to be left out of the action either, with Adelaide falling just shy of its all-time April record of 36.3 degrees yesterday, whilst Port Augusta set a new record of 39.2 degrees, beating the previous record of 38.4.
Some notable records that fell yesterday include:
Sydney Observatory Hill: 35.4 Previous: 34.2 - 2016
Sydney Airport: 36.8 Previous: 35.7 - 1986
Adelaide West Terrace: 36.3 (new site record) Previous: 35.8 - 1938
Port Augusta: 39.2 Previous: 38.4
Ceduna SA: 41.3 Previous: 40.8
Nullarbor SA: 42.2 Previous: 42
Holsworthy NSW: 35.8 Previous: 33.6
Canterbury NSW: 35.4 Previous: 34.5
The heat will continue today and tomorrow, with temperatures reaching the mid-to-high 30s across large parts of SA, VIC and NSW. Adelaide registered its third consecutive day of 34 degrees or above today, the first time on record in April. Mildura has already set a new April record today reaching 38.8 degrees, with similarly hot temperatures expected tomorrow.
The hot airmass will finally begin to break down a little by Thursday and Friday, however many areas (including Sydney) will continue to bask in well above April temperatures reaching the low-to-mid 30s into the weekend.
Image: Forecast temperatures from the OCF model on Wednesday 11th April across NSW and VIC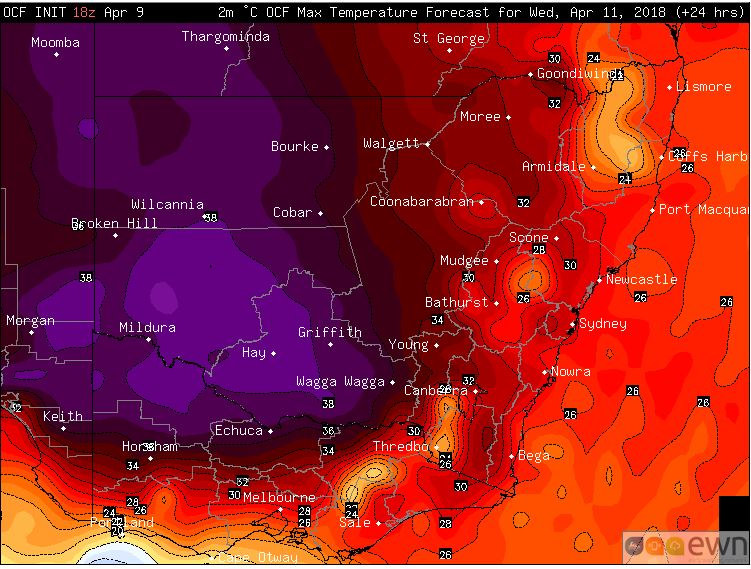 ---
Unprecedented April heat affecting parts of Australia
6 April, 2018
Summer-like temperatures are stretching well into autumn this year, as record heat continues to affect parts of Australia over the next several days.
Bathurst in NSW is averaging 30 degrees this month, more than nine degrees above the April average. The town has already seen four days above 30 degrees, with four more days forecast to reach 30 or above across the next week. To put this in perspective, the town has only had eight days of 30 degrees or above across the last 108 Aprils put together.
Southern parts of the country have largely been spared so far, however the heat will start affecting the region from the weekend, with Adelaide forecast to have five consecutive days reaching 30 or above. Monday and Tuesday have potential to creep into the mid 30s, and if the city exceeds 34.4 degrees it will be the hottest day this late in the season on record.
Melbourne will see the mercury reaching around 30 degrees on Sunday and Tuesday, whilst western Sydney is likely to see a record stretch of 30 degree heat for April, with five consecutive days likely by Monday.
Temperatures are unlikely to return closer to average until at least mid way through the month, giving many places a good shot of seeing their hottest April on record.
Image: Maximum temperature anomalies across the last week. Source: Bureau of Meteorology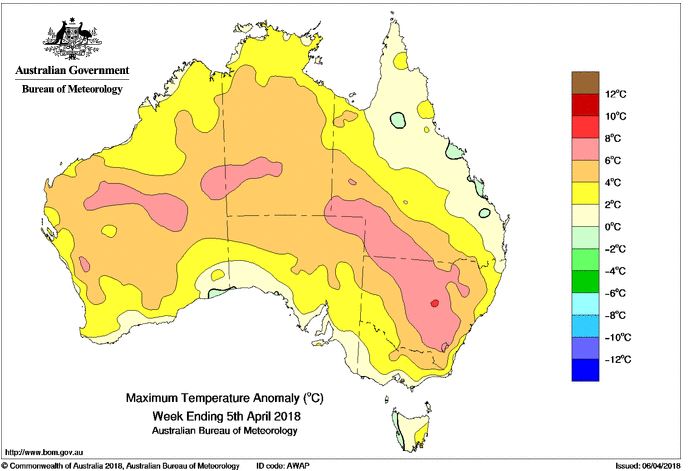 ---
Record March heat bakes northwest Australia
29 March, 2018
Unseasonably hot temperatures have been affecting northern parts of Western Australia this month, with Port Hedland registering a record 15 consecutive days above 40 degrees so far this March (and counting).
Unusually dry conditions due to a monsoon break has meant the region has experienced a prolonged stretch of intense heat, with the mercury pushing above 40 degrees for days on end, with not even coastal areas being spared.
This part of the country is well-known as being Australia's heat sink, with Marble Bar being arguably the country's hottest town, registering 161 consecutive days above 100 F (37.8c). However, the heat seen this month is very rare.
Port Hedland reached 45.3 degrees yesterday, just 0.6 degrees shy of its all-time March record. And with more than half the days this month exceeding 40 degrees already, the town is sitting more than three degrees above average and is likely to record its hottest March on record, exceeding the previous record by more than a degree.
Little relief is in sight, with the mercury expected to remain in the 40s into the first week of April.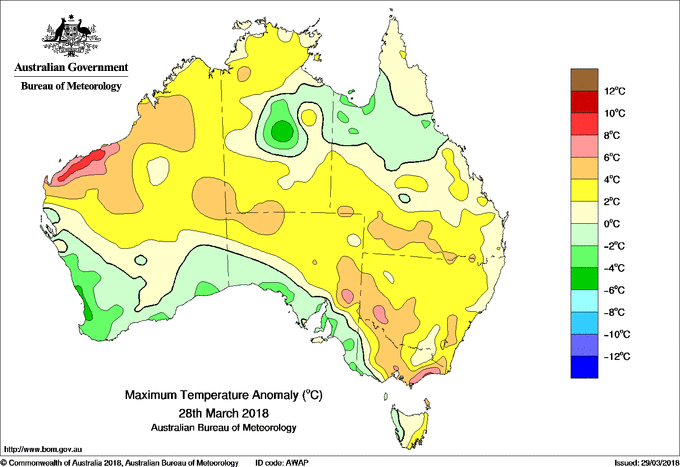 ---
Tropical Cyclone Nora
23 March, 2018
A Category 2 Tropical Cyclone is capable of producing ten minute sustained winds speeds of between 89km/h-117km/h and gusting up to 166km/h. Currently the Warning zone exists from Maningrida to the Daly River Mouth and includes both Darwin and the Tiwi Islands, with the current 'Watch' zone in place between the Daly River Mouth to the Mitchell Plateau. Destructive winds with gusts >130km/h are expected to develop this evening between Cape Don and Croker Island this evening. A storm tide between Milikapiti and Maningrida, including the Van Dieman Gulf is expected with the crossing of the tropical cyclone.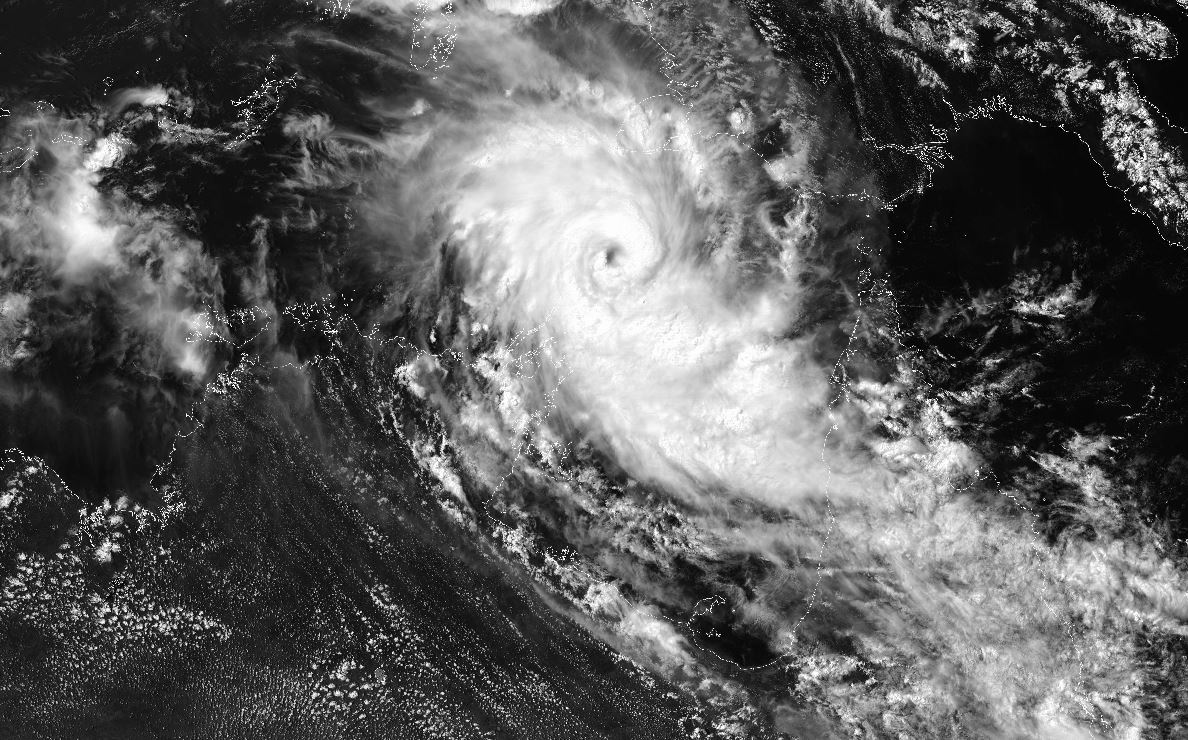 ---
Gulf Tropical Cyclone Threat
21 March, 2018
Before reading any further, the golden rule about the Gulf of Carpentaria is that it's notoriously unpredictable when it comes to trying to forecast where a tropical cyclone might head, and how weak or strong it'll be. This means forecasts can sometimes change dramatically at the drop of a hat. So all the information below is HIGHLY subject to change.
At time of writing this, the scenario that's currently more likely than the others is for a tropical low to drift SE past the northeastern tip of the NT (Arnhem Land coast) while gradually intensifying. Then by around Friday (but allow a leeway of a day either side of this), it's likely to become a tropical cyclone. If it does become a cyclone, its name will be Nora. By the weekend, the system should enter the waters in the Gulf, intensifying further and possibly into a significantly intense tropical cyclone. From late weekend onwards is when the uncertainty about what happens to it well and truly kicks in. It's quite possible that it hovers erratically for a bit in the Gulf before curving south or southwest & coming ashore along the Gulf coast.
BUT one thing to always remember about the Gulf is that if a tropical system shifts too close to land, it can interfere with the system's ability to strengthen into a major tropical cyclone. It doesn't always happen but it does happen sometimes.
Here's a map showing a range of possible scenarios for this tropical system's tracks within the next 6 days from a range of computer models. Note that it doesn't show what may happen beyond those 6 days and it also doesn't mean the system will be a tropical cyclone along the entire length of those tracks. You can see that there's an overall trend of the system curving to the south into the Gulf in the next few days.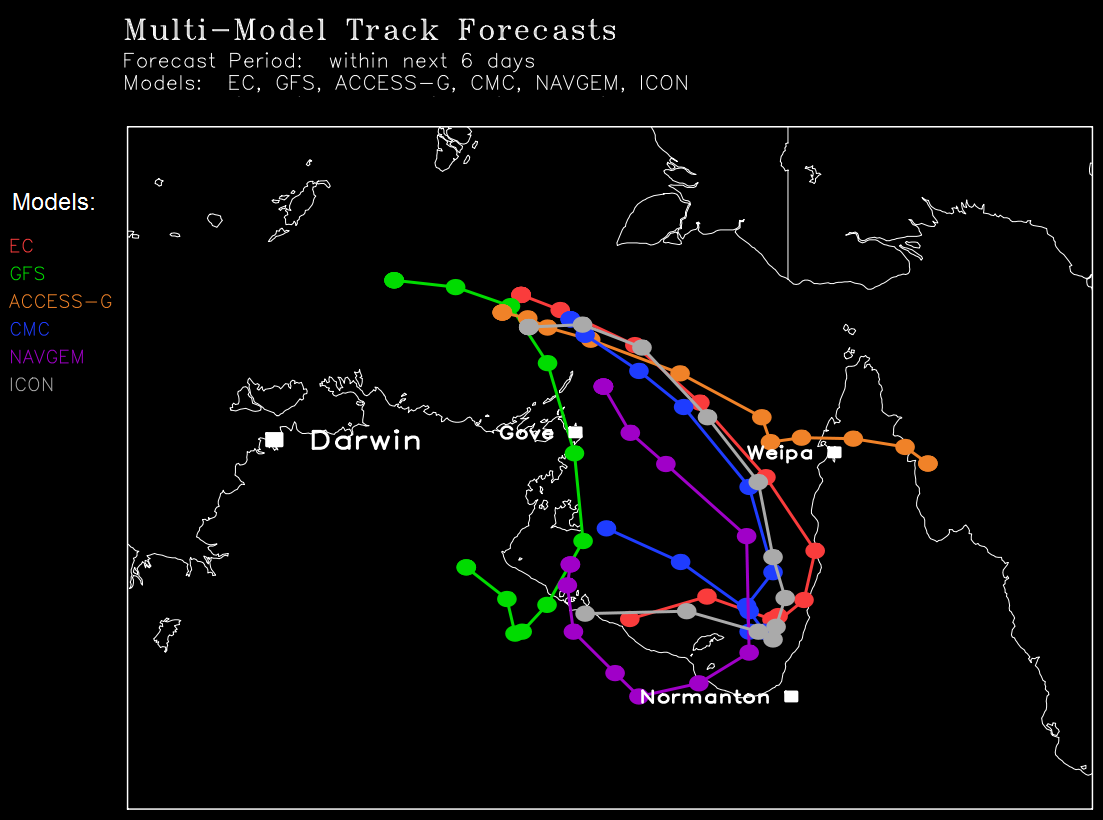 ---
Severe Winds Tasmania
19 March, 2018
Check out the huge intense low pressure system over the Southern Ocean in this forecast wind map for this afternoon generated by the ECMWF model.
This low has a central pressure of 945hpa and very strong winds wrapping around it with embedded cold fronts have caused impressive wind gust speeds for many exposed locations in SE Australia this weekend. These strong winds are still continuing in some areas and just some of the highest gusts so far since midnight include:
Maatsuyker Island (TAS) - 156km/hr
Mt Wellington (TAS) - 137km/hr
Scotts Peak (TAS) - 133km/hr
Low Rocky Point - 117km/hr
Map credit: windy.com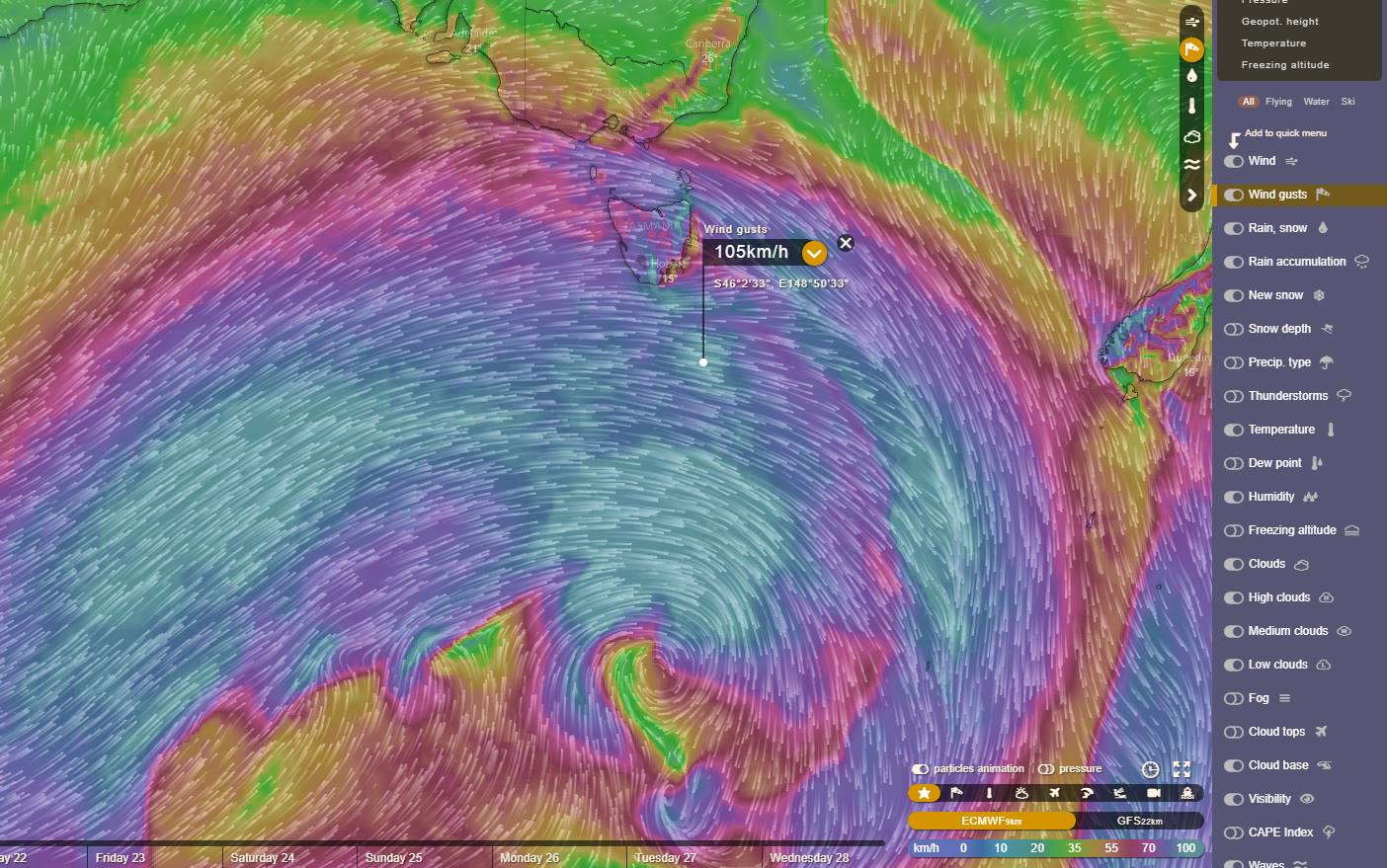 ---
Tropical Cyclone Marcus - Northern Territory
5pm 16 March, 2018
Tropical Cyclone Marcus was named just after 11:00am this morning and is currently located approximately 50kms NNW of Croker Island and continuing to move in a SSW direction at 11km/h. On current projections, it is possible for the Tropical Cyclone to reach Category 2 strength late this evening or early into tomorrow at this stage.
The current Category 1 Tropical Cyclone currently has quite a few factors working in it's favour with good equatorial outflow in a moderate vertical wind shear environment and is also tracking over very warm sea-surface temperatures of between 29-30 degrees. TC Marcus is expected to continue to track towards the SW (under the influence of the sub-tropical ridge to the SE) overnight and potentially cross close to Darwin, NT during tomorrow.
As TC Marcus encounters the land mass, the tropical cyclone may weaken slightly back to a Category 1 system due to the lack of heat source and moisture provided by the ocean, before potentially reintensifying back to Category 2 strength as the TC tracks back over the waters of the Timor Sea late tomorrow and during Sunday. (On-route towards the North Kimberley Coast of Western Australia).
A Category 2 Tropical Cyclone is capable of producing ten minute sustained winds speeds of between 89km/h-117km/h and gusting up to 166km/h. Currently the Warning zone exists from Maningrida to the Daly River Mouth and includes both Darwin and the Tiwi Islands, with the current 'Watch' zone in place between the Daly River Mouth to the Mitchell Plateau. Destructive winds with gusts >130km/h are expected to develop this evening between Cape Don and Croker Island this evening. A storm tide between Milikapiti and Maningrida, including the Van Dieman Gulf is expected with the crossing of the tropical cyclone.
Click the image for an animation of Tropical Cyclone Marcus.
---
Sizzling Temperatures & Potential Record March Heat This Weekend in NSW
4pm 16 March, 2018
A strong cold front will drag a very hot airmass across NSW this weekend, with temperatures more typical of summer.
Maximum temperatures will reach into the mid-to-high 30s, with some areas reaching into the 40s. For some areas, this heat may be close to record breaking, or at least record breaking for this late in March. On Sunday, Bankstown is predicted to reach 41c (record 41.6c) and Sydney 38c (record 39.6c).
Strong winds ahead of and with the change also makes fire danger likely to be significantly elevated, so remember to be prepared.
Image shows forecast temperatures on Sunday across NSW.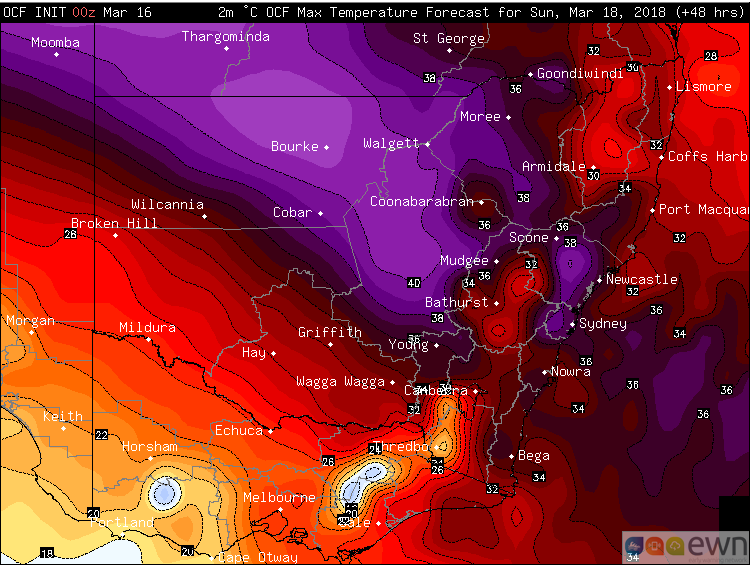 ---
Tropical Low/Cyclone Potential - Southeast QLD
13 March, 2018
With lots of hype about a potential tropical cyclone in Southeast QLD in the next few days it's worth having a look at what the ensemble models are saying for its track. (The image below from ECMWF model).
As we can see, the vast majority of scenarios have the system passing out to sea. This would generate some increased swell, and possibly a few showers and gusty winds along the coast, however impacts would generally be minimal. However, in the event that the system moves faster than expected and arrives before the stronger wind shear is predicted to push in (considered VERY slim right now), there is a chance of southeast QLD being impacted, but this also does not necessarily mean it would even be cyclone strength.
At this stage, the system has a moderate chance of becoming a cyclone in the next 24 hours, and the most likely scenario is for it to pass out to sea and not cause too much fuss over land.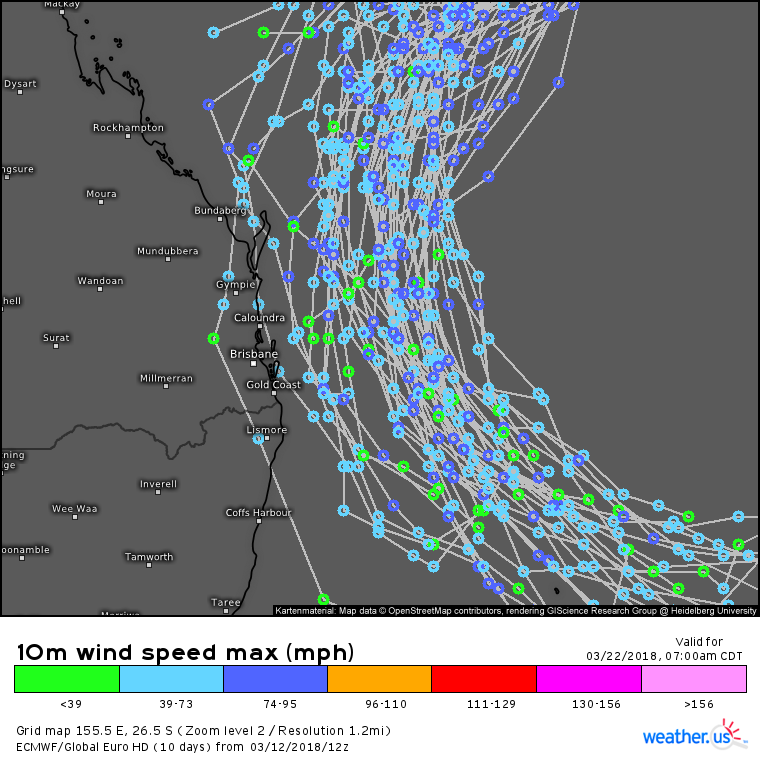 ---
Heavy rain drenches parts of Sydney overnight
13 March, 2018
Some isolated but very heavy rain around the Sydney basin last night, mainly over the North Shore, Northern Beaches and eastern suburbs
The city collected 53mm to 9am, however Mona Vale recorded 113mm. Unfortunately the rain didn't get far west, or even north of Sydney, however it would still be welcome for where it fell.
The image below shows rainfall totals in the 24 hours to 9am today, sourced from the Bureau of Meteorology.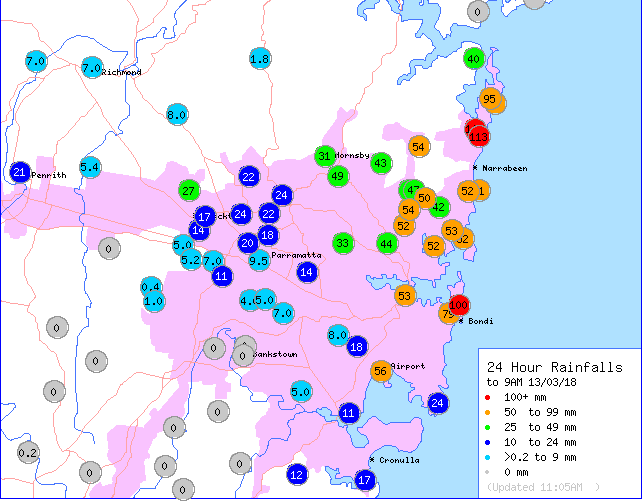 ---
Broome registers wettest year on record
20 February, 2018
Broome has officially recorded its wettest year on record, a mere 7 weeks into the year.
Record rainfall aided significantly by Cyclone Joyce and Cyclone Kelvin have meant the town has received 1497.2mm so far this year, eclipsing the previous record of 1496.6mm set back in 2000.
January (940mm) and February (557.2mm and counting) were both the wettest on record, with January also being the town's wettest month on record.
With the cyclone season persisting through to April and the remainder of the year to come, Broome has the chance to break its previous by a significant margin.