Twitter

Instagram

Facebook | QLD | NSW | VIC | TAS | SA | WA | NT

Latest Severe Weather News | May 2018 News | April 2018 News | March 2018 News


Southern Australia braces for damaging to destructive winds
14th August 2018
Parts of Victoria, NSW, SA and Tasmania are expected to experience damaging to locally destructive winds gust overnight Tuesday into Wednesday, as a strong cold front sweeps across the southern states.
Fresh to strong northerly winds will increase during Tuesday afternoon and evening as the strong front approaches from the west, with wind gusts possibly exceeding 100km/h in some areas.
A band of heavy showers are expected as the front passes through. In the wake of the cold front, an upper cold pool of air will move into the region, with thunderstorm activity possible across western and southern Tasmania early Wednesday before spreading across most of the state. Small hail is likely with showers and thunderstorms for coastal Victoria and Tasmania during Wednesday.
Further snow falls are likely, with Alpine regions of Tasmania expected to see another 15-30cm during the next three days. Ski resorts in NSW and Victoria should see a further 5-10cm over the coming days.
Severe weather warnings have been issued for South Australia, Victoria, NSW and Tasmania.
Image 1. EC wind gusts, 5am Weds morning, windy.com. Image 2 EC wind gusts, VIC and NSW, 5am Wednesday. Image 3, Latest colour, mean sea level pressure analysis chart from the Bureau of Meteorology. Image 4, Snow accumulation for the next 3 days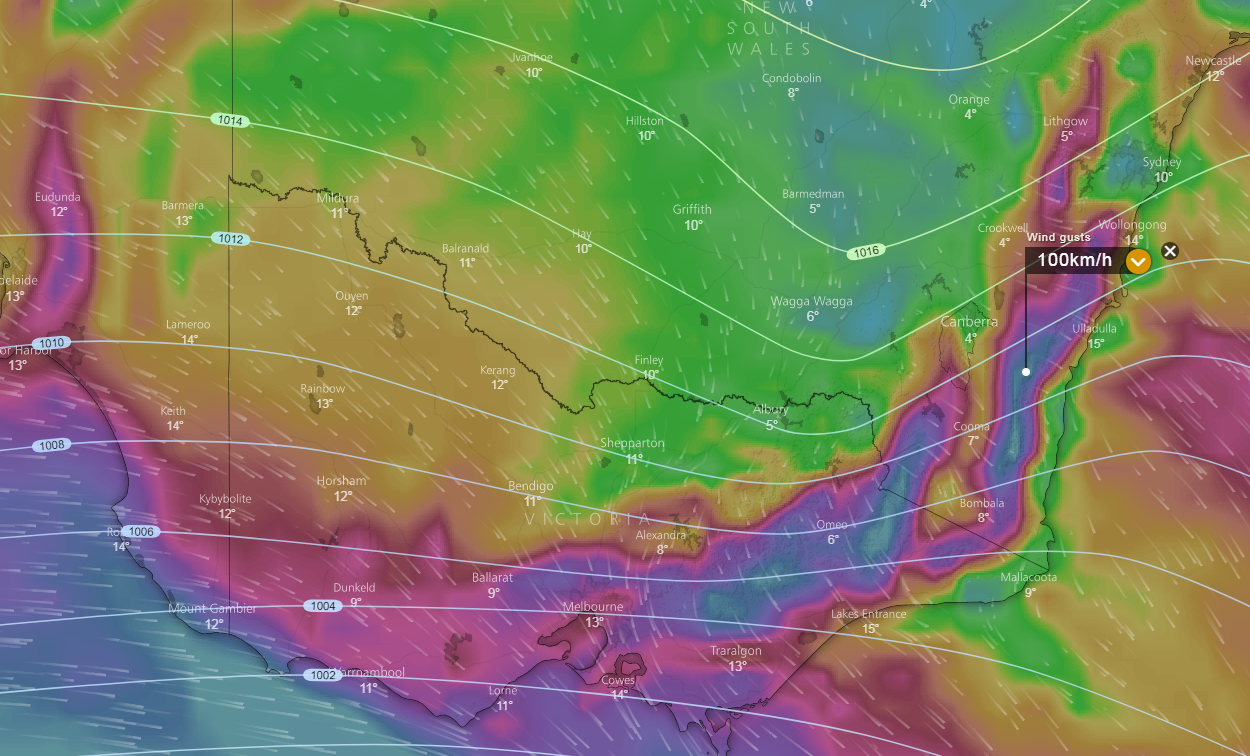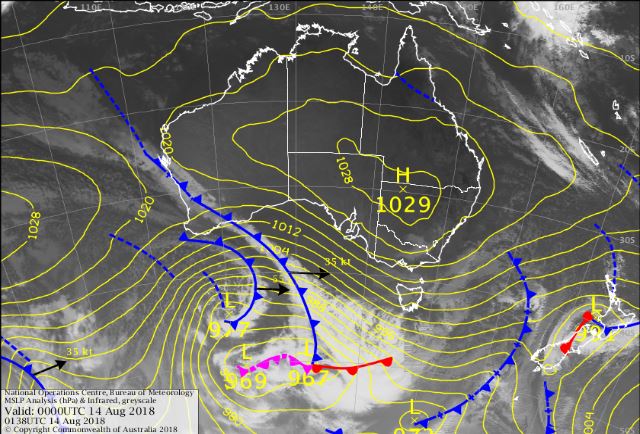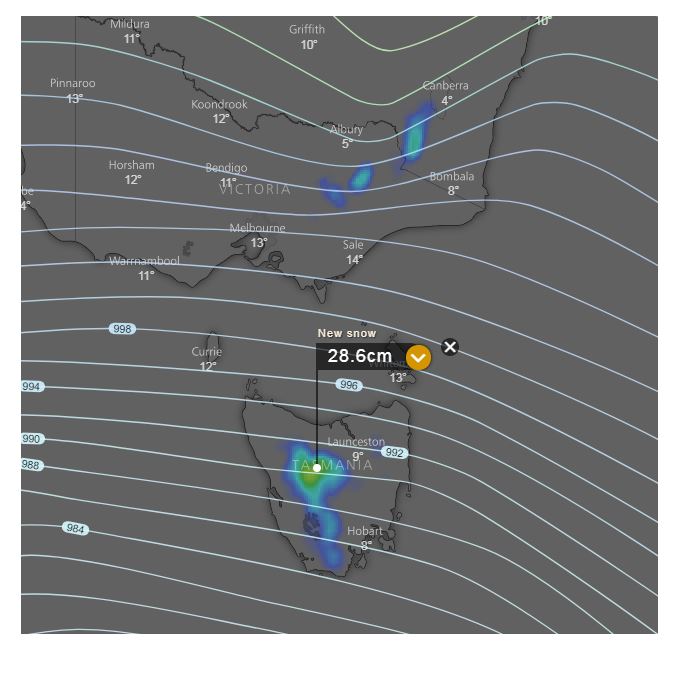 ---
Large earthquake strikes Indonesia
6th August 2018
A strong earthquake has hit the Indonesian island of Lombok overnight killing at least 82 people with neighbouring island Bali also feeling the powerful quake.
The magnitude 6.9 quake struck after 7pm local time Sunday evening, with building damage recorded as far away as Denpasar, Bali.
Further aftershocks have continued across the north of the island with a 5.5, 5.1 and 5.2 magnitude quakes recorded. It was just over a week ago that another strong 6.4 magnitude quake also struck the island of Lombok.
A tsunami warning was issued for the region with only some minor flooding reported, that has since been lifted.
Image: Australian Geoscience, earthquakes.ga.gov.au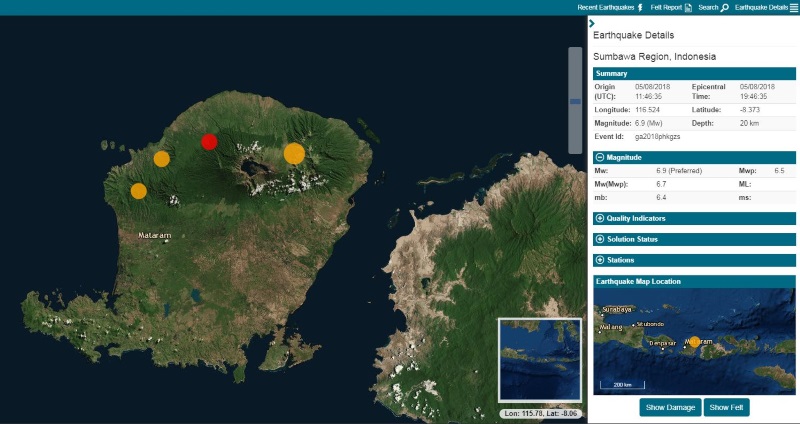 ---
Cold fronts to batter southeastern Australia over the next week
3rd August 2018
A series of cold fronts are set to batter southeastern Australia across the next week, bring a slew of wet and windy days, and priming the ski resorts for their best weeks this season.
The Southern Annular Mode (SAM), which is related to the location of the belt of westerly winds, has shifted into a negative phase after being largely positive the last two months. When the SAM is positive, the belt of westerly winds move south away from Australia, and has been a big reason why June and July have been warm and dry across the country.
As the SAM has dipped into a negative phase, cold fronts will increase in frequency across the country for at least the next week, and bring a burst of wintry weather and showers to the nation's southeast.
The first of these fronts crossed the region today, bringing much needed rain to South Australia and Victoria with widespread falls of 5-15mm, and some places collecting as much as 30-40mm.
Another, although slower moving front will cross the nations south across the weekend and into early next week, bringing scattered showers, gusty winds, isolated thunderstorms with small hail and snow about alpine areas. There is potential for further useful rainfall totals with this system, especially about southeastern SA, western Victoria and western and northern Tasmania (where further flooding is possible after a damp winter already).
Another weaker front will push through mid-week, before another system is expected to arrive during the weekend, although these systems are not expected to be overly strong. However, they will all contribute to further topping up the ski resorts, with parts of the NSW and VIC alpine areas expected to approach 2 metres by next weekend.
SAM is very hard to predict more than a couple of weeks in advance, so it is hard to know how long this burst of frontal activity will last. Unfortunately, drought affected eastern Australia won't see much in the way of rain from these cold fronts at all.
Image: PME rainfall forecast across the next week over Australia (Source: Bureau of Meteorology)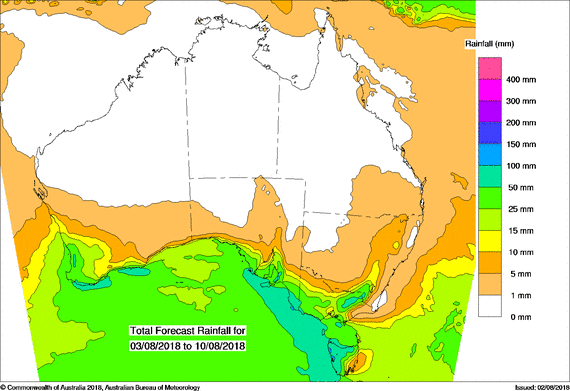 ---
Vigorous cold front moves across South Australia during Thursday
2nd August 2018
A vigorous cold front will move across South Australia today bringing strong to locally damaging wind gusts, showers and isolated thunderstorms with small hail.
Strengthening northerly winds ahead of the approaching front are likely to produce strong to locally damaging wind gusts of up to 100km/h. These strengthening northerly winds will drag down warm air from northern Australia, which will result in maximum temperatures reaching above the August average for many locations across central and eastern South Australia today. This will present a slightly enhanced bushfire risk across these regions during Thursday afternoon.
A large cloud band is currently moving its way across the state, producing showers, rain periods and isolated thunderstorm activity. Rainfall totals are expected to remain fairly light, with falls in the 5-10mm range expected, however isolated falls of up to 20mm cannot be ruled out.
Late this afternoon and overnight a large upper cold pool of air will move in from the west with a secondary round of showers and thunderstorms. Gusty winds and small hail are expected with activity, chiefly across coastal locations and adjacent inland regions. Adelaide may see some brief storm activity throughout Thursday night or during the early hours of Friday morning.
During Friday, fresh to gusty west to south-westerly winds will gradually turn north-westerly during the day ahead of a secondary front. Further shower activity is expected across coastal locations late Friday into Saturday, where an isolated brief coastal thunderstorm cannot be ruled out.
Image 1, BoM Himawary current satellite. Image 2, PME rainfall, Thursday 2nd August. Image 2, GFS storm probabilities. Image 2, EC wind gusts 6pm, wind.com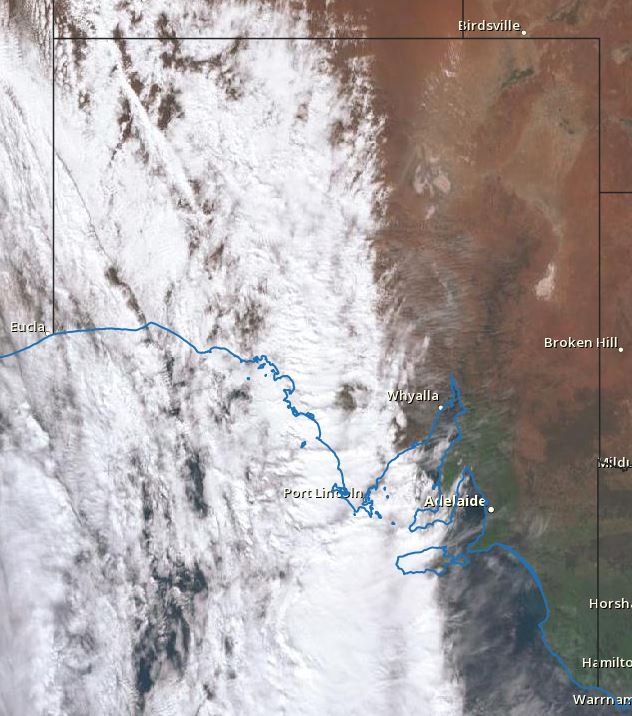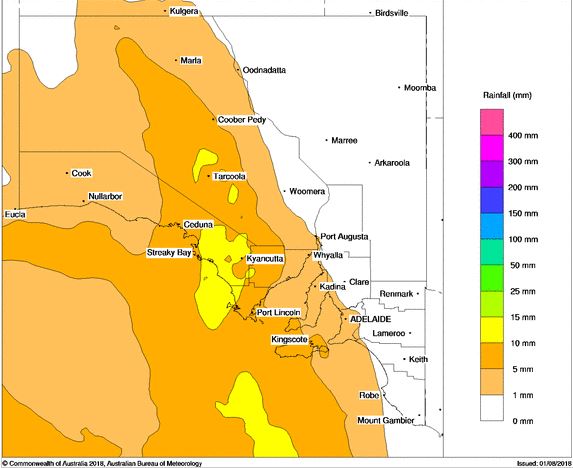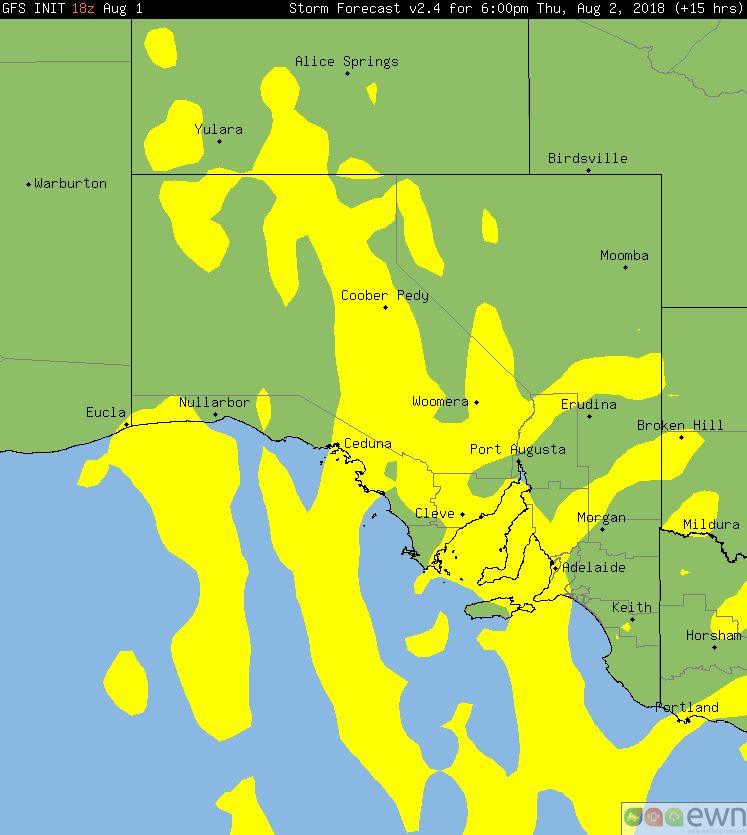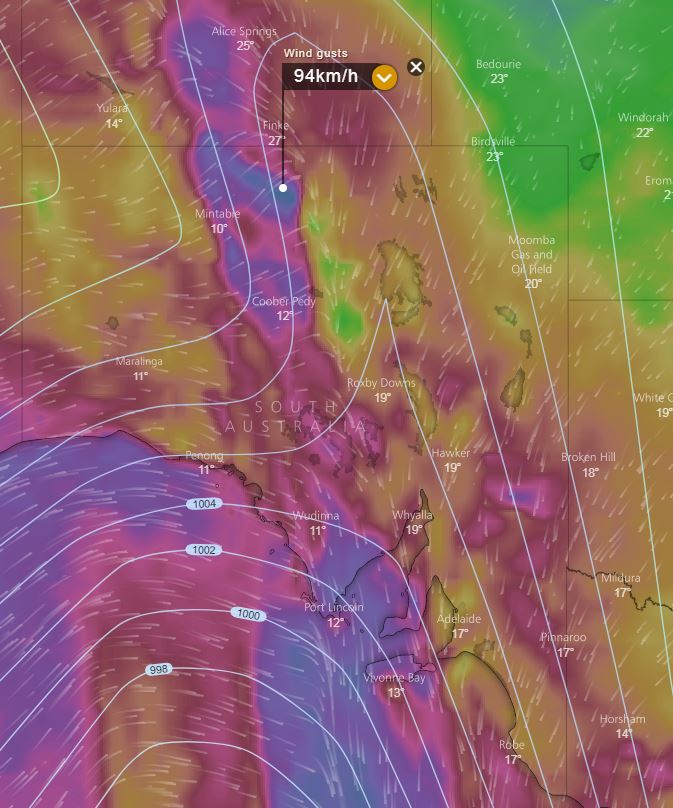 ---
Australia registers second-warmest July days on record
1st August 2018
The bite was significantly taken out of July for the second year running across Australia, with the nation experiencing its second warmest July days on record, and fifth warmest July overall, as the very dry conditions continued.
A persistent region of high pressure kept skies consistently cloud-free throughout the month, as cold fronts struggled to penetrate as far north as normal for this time of the year. This meant daytime temperatures were unusually warm, with the national average maximum temperature 2.22 °C above the average, the second warmest on record (after only last year).
Long-term maximum records were smashed in some major centres, including Sydney which beat its previous record set in 2013 by 0.4 °C (19.9 °C). Brisbane averaged 23.2 °C during the day in July, beating its previous record by 0.2 °C.
The clear skies and below average moisture levels allowed night time temperatures to be significantly cooler than days, although the national average minimum temperature was still 0.25 °C above average. However, a band from Broome in Australia's northwest to Canberra in the southeast recorded significantly colder than average nights, with some registering their coldest average July minimum temperatures on record.
Some short-term sites, including Parkes, Wollongong and Campbelltown registered both their warmest (days) and coldest (nights) July on record.
Unfortunately, the drought situation worsened, as the country saw its driest July in 16 years. Only western parts of Tasmania and eastern parts of the Northern Territory Top End saw significantly wetter than average conditions, whilst parts of eastern Western Australia, South Australia and New South Wales had their driest July on record.
Warmer than average and dry conditions are expected to persist across much of the country across the next few months.
Image 1. Maximum temperature deciles Image 2. Minimum temperature deciles Image 3. Rainfall deciles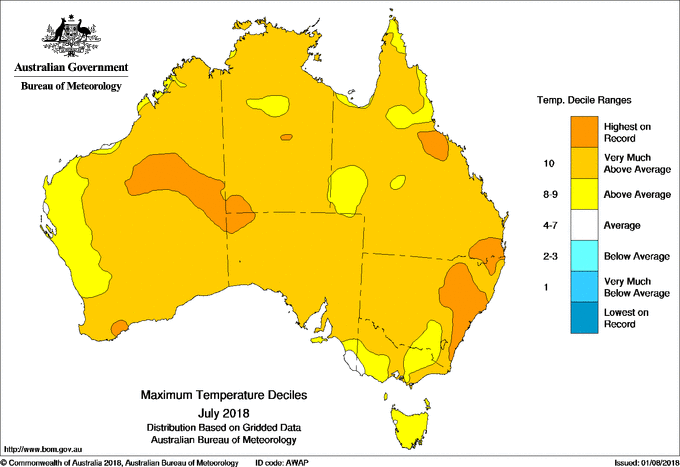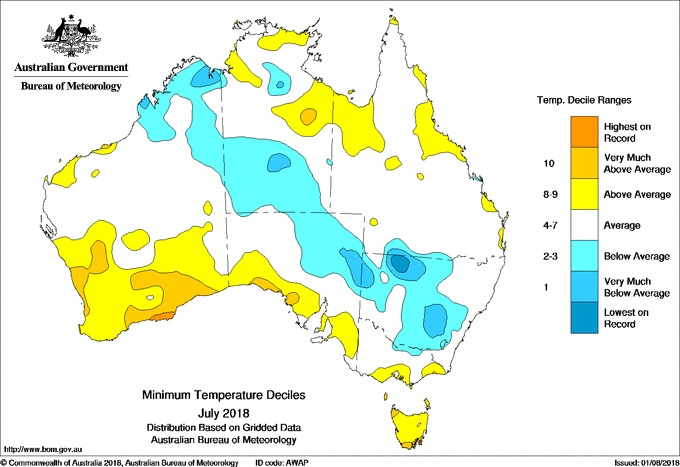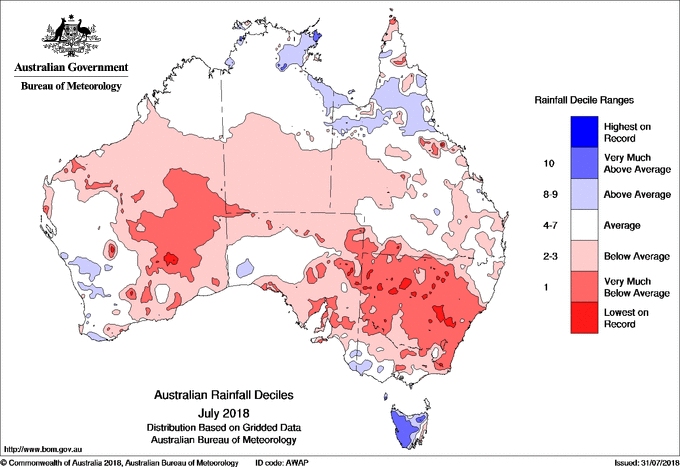 ---
Strong cold fronts to batter Western Australia from Wednesday through to Saturday
31st July 2018
A strong cold front and associated trough will move through south-western parts of WA on Wednesday, with heavy rain periods, damaging winds and thunderstorms.
A large band of showers, rain periods and isolated thunderstorms are expected to move through with the initial front during the morning hours. Localised damaging wind gusts of up to 100km/h are possible for exposed coastal locations and elevated terrain.
Very cold upper level temperatures associated with a strong upper trough will move across the region during Wednesday. This will enhance the potential for small hail, particularly with any storm activity. Light snow flurries may also develop for higher terrain in the Stirling Ranges overnight Wednesday into Thursday morning.
Moderate falls are expected with the passage of the front during Wednesday, with widespread falls of 15-30mm. Isolated heavier falls of up to 50mm will be possible, particularly with any storm activity.
During Thursday, gusty south-westerly winds, widespread showers and isolated storms are expected to continue, however conditions should gradually ease into the evening.
A secondary front will move north across the region during late Friday and Saturday with a return of heavy showers, squally winds and isolated thunderstorm activity, and the chance of further flurries on the Stirling Ranges.
Image 1. Access R forecast rainfall 8am Wednesday 1st August. Image 2. EC wind gusts 10am 1st August windy.com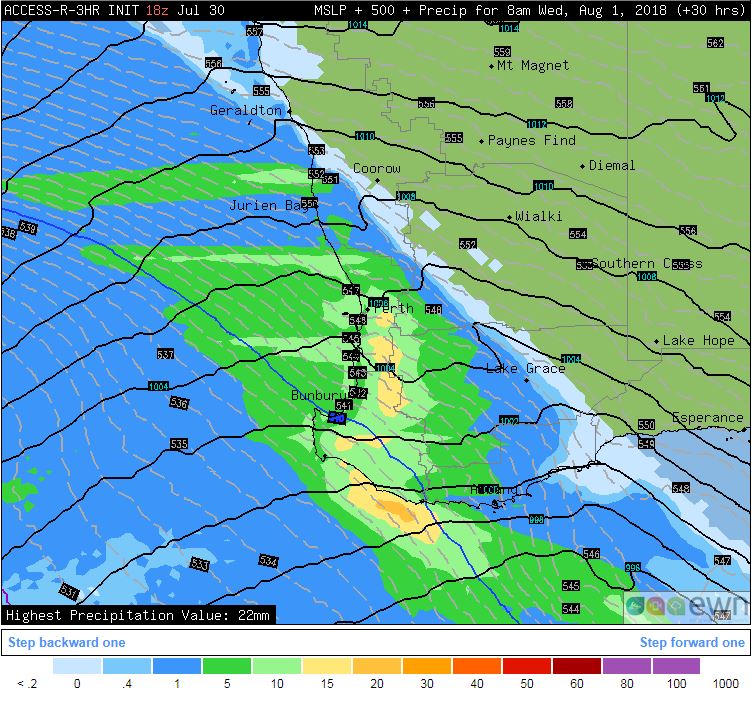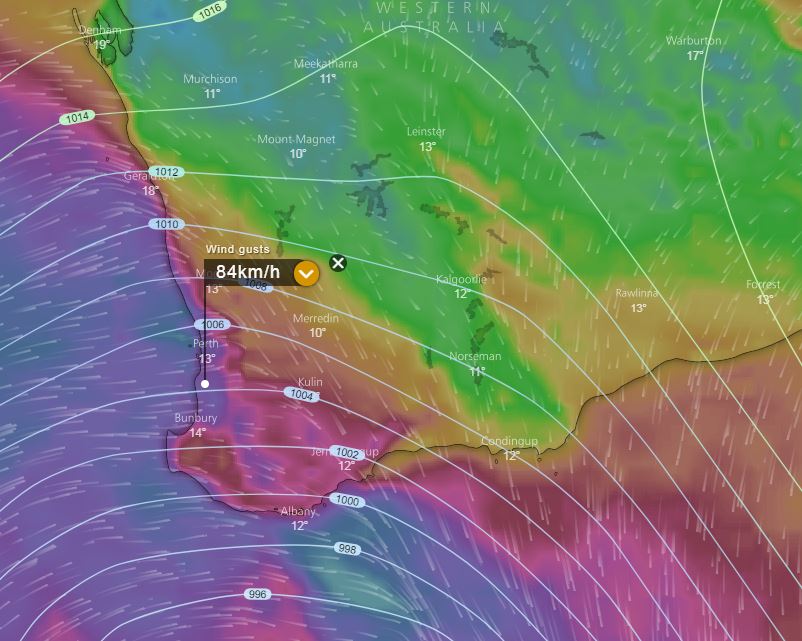 ---
Australia to witness longest 'blood moon' this century early tomorrow morning
27th July 2018
Australians will be treated to the longest total lunar eclipse of the 21st century tomorrow morning, part of a thrilling astronomical double as it coincides with Mars' closest approach in 15 years.
Those that missed the lunar eclipse earlier in the year (where many missed out due to cloud) will get another chance to catch the unique spectacle, although some parts of the country will still have to battle with potential cloud cover.
In a rare astronomical double, Mars will also be located very close to the moon and will appear larger than normal as it makes its closest approach in 15 years.
The only drawback is those that want to catch the event will have to get up relatively early in the morning - on a weekend - and look towards the west.
Brisbane and Sydney will see totality begin at 5:30am EST with the moon to set in both cities before totality finishes.
Whilst this will cut the length of time down slightly, it will provide the optical illusion of the moon appearing larger than normal as it sets on the western horizon.
Other capital cities in the country will be able to see totality over its entire duration:
Melbourne - 5:30am to 7:14am
Hobart - 5:30am to 7:14am
Adelaide - 5:00am to 6:44am
Darwin - 5:00am to 6:44am
Perth - 3:30am to 5:14am
Remember, unlike a solar eclipse, lunar eclipses can be seen safely with the naked eye or binoculars.
Lunar eclipses occur when the moon passes entirely in the earth's shadow (umbra), blocking it from direct sunlight. Sunlight that is refracted through the earth's atmosphere gives the moon its red colour, instead of it appearing entirely black.
The next total lunar eclipse in Australia won't be until 2021, so be sure to get out and have a look if you get the chance.
Image: Forecast cloud cover from the ECMWF model at 4am EST (around the time of the eclipse). Source: Windy
---
Showers, light rain and gusty storms for South Australia
26th July 2018
A low pressure system and upper cold pool of air is expected to track in a north-easterly direction across central and eastern parts of SA this afternoon and overnight, with showers, light rain periods and isolated gusty thunderstorms.
Very cold temperatures in the upper atmosphere are expected to provide weak instability for isolated thunderstorms during Thursday. Into the evening, a strengthening low-level jet is expected to help enhance high based thunderstorms across northern regions of the state where the potential will exist for localised damaging wind gusts.
Rainfall totals of less than 10mm are expected, however an isolated fall or two up to 20mm will be possible, particularly with any storm activity.
Conditions will gradually ease from the west overnight into Friday with fresh southerly winds moving into the region.
Image 1, Access R 3 hour total precipitation. Image 2 and 3, GFS storm potential overnight Thursday into Friday.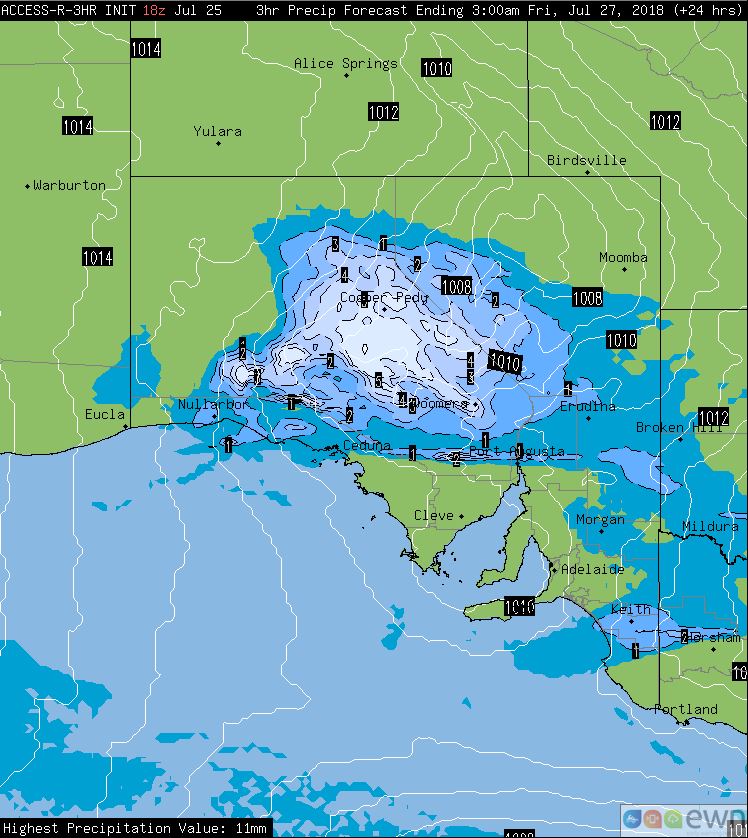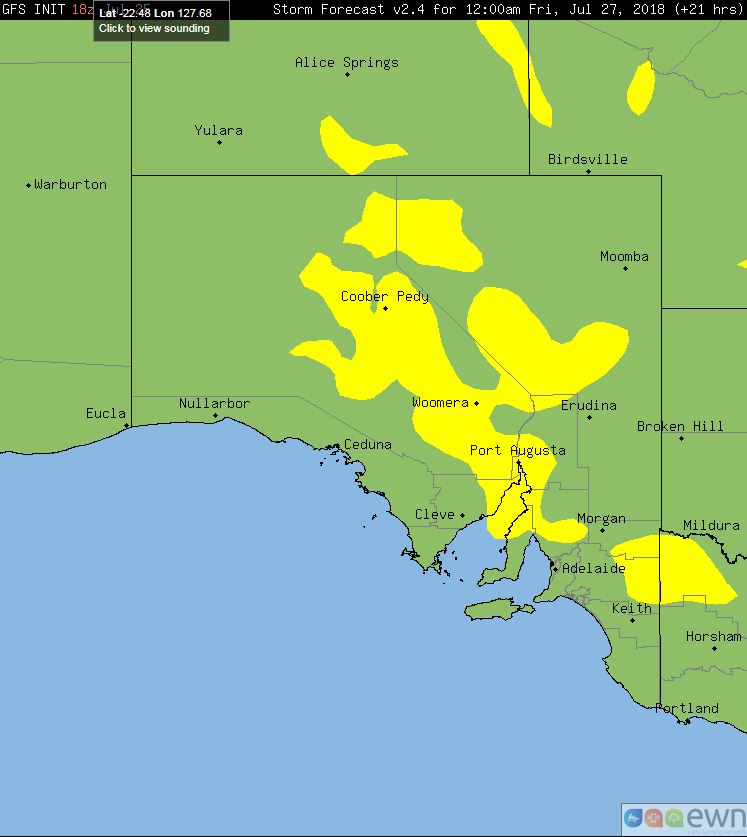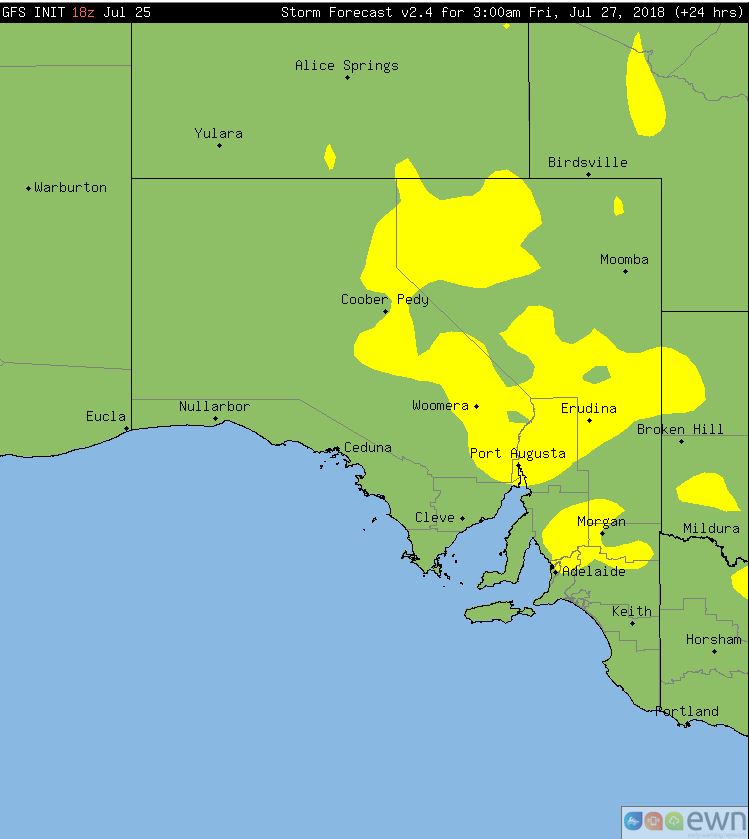 ---
Cold front hits WA with strong winds and moderate falls
26th July 2018
A low pressure system and strong cold front moved through the South West Land Division of Western Australia during Wednesday, producing strong to localised damaging wind gusts, chiefly across coastal locations and surrounding islands.
Winds were at their strongest during the afternoon and evening, with gusts reaching 96km/h at Garden Island, 89km/h at Rottnest Island, Melville Water and Ocean Reef, and 74km/h at Mandurah.
Moderate rainfall totals were also recorded with the passage of the front, with Glen Eagle receiving an impressive 55.4mm, Dwellingup 39.2mm, Mandurah with 33.6mm and Margaret River with 32mm.
Whilst mostly fine conditions returned during Thursday, showers are expected to redevelop across the region late Friday as a weak cold front clips the south-west of the state.
Image, rainfall totals to 9am, 26th July 2018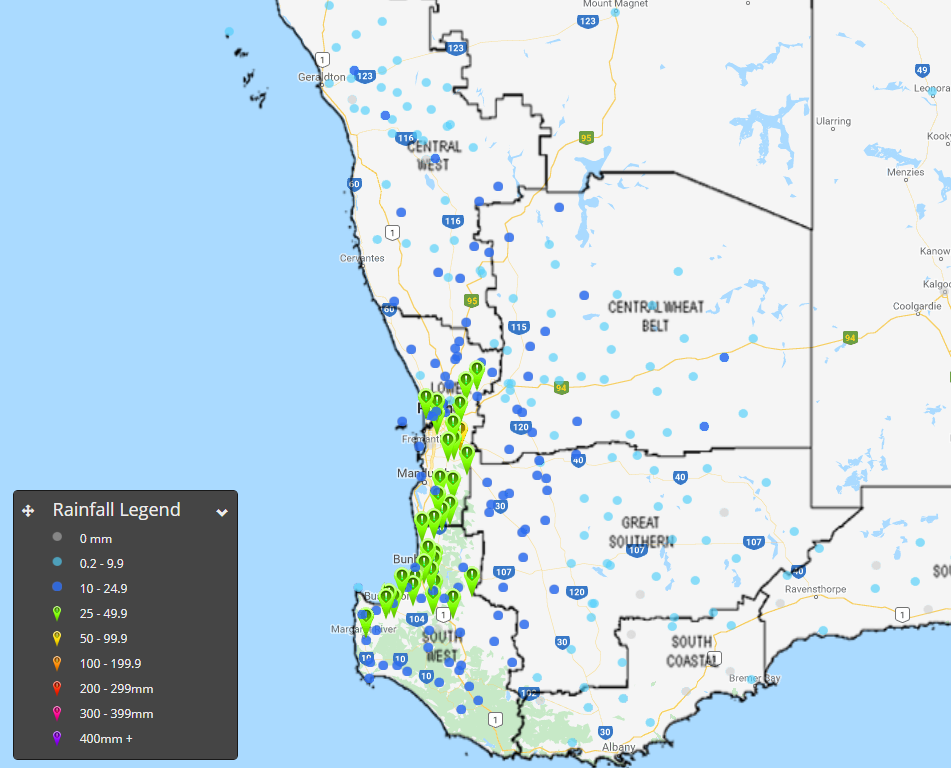 ---
Winter thunderstorms for inland Queensland
25th July 2018
A large upper trough across Queensland led to unstable conditions through central and southern parts of the state on Wednesday, triggering showers and thunderstorms.
Isolated, tending scattered showers and thunderstorms developed in response to this feature across the Maranoa and Warrego region during the afternoon hours.
Sadly, rainfall totals remained generally light with Bakers Bend recording 10mm to 3pm, Dooloogarah 4.0mm and Joylands picking up 2.0mm.
Whilst Queensland isn?t noted for its thunderstorm activity during the winter months, when strong upper troughs move across the region in combination with warm day time temperatures, thunderstorms activity becomes possible.
This system will begin to shift off the QLD coast overnight and during Thursday before another upper level system moves in from the west late this week and into the weekend, when another round of thunderstorms are likely to develop.
Image 1, GFS thunderstorm probabilities, QLD 4pm.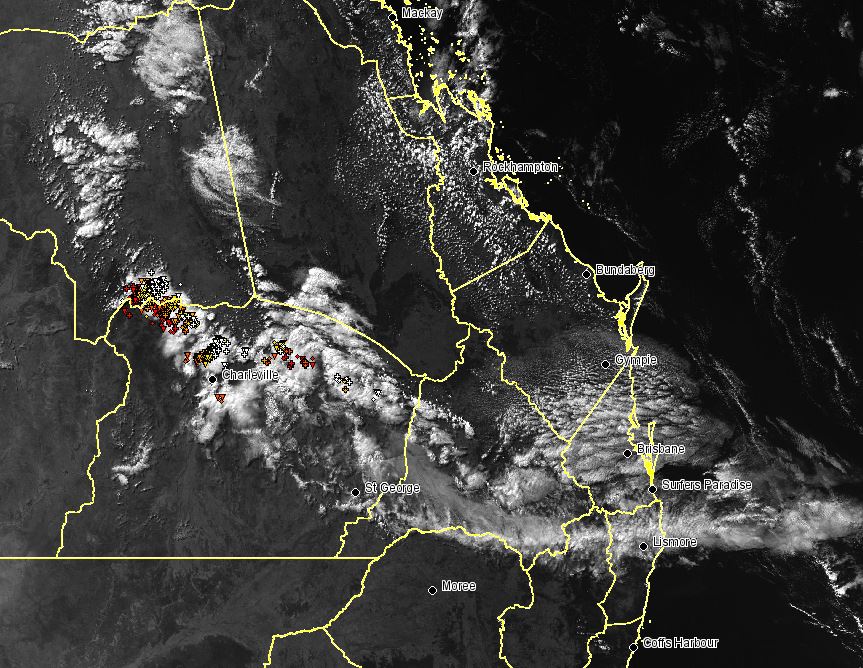 ---
Parts of Australia to see their warmest average maximum July temperatures on record
23rd July 2018
Parts of Australia are on track to register their warmest July days on record as persistent clear skies and a lack of strong cold fronts deprive the country.
Above average day time temperatures are continuing for large parts of central and eastern Australia as cold fronts struggle to reach as far north as normal for this time of the year. Warm north to north-westerly winds sourced from northern western Australia have been impacting parts of QLD, NSW, southern NT and parts of SA during July. This trend is expected to continue through to the weekend before dry south-westerly winds move in.
Alice Springs, Sydney, Newcastle and Brisbane are larger centres of note that are expected to break July records by the end of the week with a continuation of above average temperatures. Brisbane's average maximum temperature so far this month stands at 22.6c, above the long term average of 21.8c, and with a run of temperatures in the mid-20s expected until the end of the month, the record of 23.0c is likely to be broken.
Sydney's July maximum is averaging a balmy 19.2 degrees so far, well above the long-term average of 16.4c. With temperatures expected to hover around the 20-degree mark for the remainder of the month, the record of 19.5°C degrees looks to be under threat.
Whilst daytime temperatures have been well above average, night time temperatures in July have been the coldest in recent years in many areas. With the warmer than average daytime temperatures and very dry conditions, combined with very cold nights leading to severe frosts at times, this has been detrimental to farmers.
Image: Bureau of Meteorology Maximum Temperature Anomaly (°C), week ending 22nd July 2018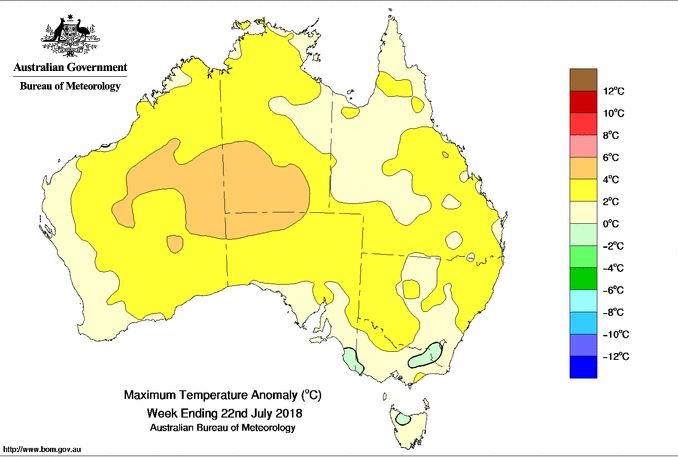 ---
Tasmania battered by strong winds and heavy rain overnight
19th July 2018
A vigorous cold front swept through Tasmania last night, bringing wind gusts in excess of 100km/h to some areas as well as heavy rainfall that led to flooding.
After a relatively pleasant (albeit) windy start to the start over the Apple Isle, conditions gradually soured as the day wore on as the second cold front in as many days hit the state.
Whilst strong winds characterised Tuesday's front, Wednesday's front brought with it widespread heavy rainfall over the western half of the state.
Strahan collected 33.2mm in the 24 hours to 9am, its heaviest rain since March, whilst Scotts Peak Dam registered 43.6mm, its best rain since November.
Over the highlands, even heavier totals were recorded, including 75mm at Cradle Valley, 78mm at Pine Forest Moor and 87mm at Lake Gwendy. These heavy falls resulted in mostly minor flooding across the region, although moderate flood levels have been recorded at the North Esk River.
Many areas also recorded strong and gusty winds in the 80-90km/h range, however only exposed areas registered wind gusts over 100km/h, including Maatsuyker Island (122km/h), Scotts Peak (113km/h) and Mount Read (104km/h).
Showers will persist for the remainder of the day and into tomorrow due to another front, before easing on the weekend.
Image: Rainfall totals recorded to 9am today (19 July, 2018) across Tasmania (Bureau of Meteorology)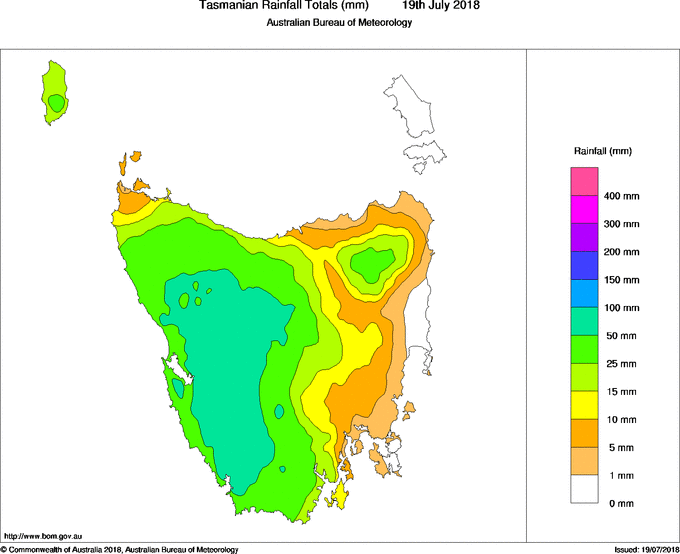 ---
Damaging to destructive winds lash southeastern Australia
17th July 2018
The first in a series of cold fronts has been sweeping across South Australia, Victoria and Tasmania today, bringing wind gusts up to 145km/h at some locations, downing trees and powerlines and leaving many residents without power.
The effects were first felt in South Australia this morning as wind gusts clocked up to 117km/h in the Adelaide Hills, and 90-100km/h in and around Adelaide, causing more than 5000 homes to lose power.
By midday, winds had significantly strengthened over western Victoria, with gusts reaching 111km/h at Horsham, 102km/h at Nhill and 119km/h at Mount Gellibrand, bringing down trees and powerlines.
Further south in Tasmania, winds also reached dangerous speeds around midday, with gusts recorded as strong as 98km/h at Hobart and 145km/h at Mount Wellington.
Melbourne was hit by the front during the mid-to-late afternoon, accompanied by showers, thunderstorms and small hail. Widespread wind gusts of 80-90km/h were recorded across the metropolitan area and surrounds, with wind gusts reaching as strong as 126km/h in the Bay.
Strong winds were also felt in southern parts of NSW, although most places didn't record gusts above 90km/h (defined as 'damaging'), apart from alpine areas which saw gusts to 120km/h.
Winds will ease later this evening, however another front will cause another burst of strong winds tomorrow, particularly over Tasmania and southern areas of South Australia and Victoria.
Image: Bureau of Meteorology Mean Sea Level Pressure (MSLP) Chart at 10am Tuesday 17th July, showing the cold front crossing southeastern Australia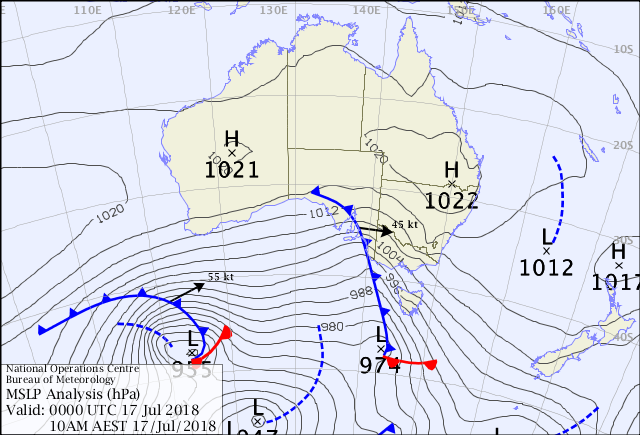 ---
Southern Australia braces for a series of strong cold fronts
16th July 2018
A series of cold fronts are expected to move across parts of South Australia, Victoria, New South Wales and Tasmania over the next several days.
During Tuesday, the first substantial front is likely to sweep across southern Australia with damaging north-westerly winds. Gusts of up to and exceeding 100km/h are possible, particularly across exposed coastal location and elevated terrain.
Heavy showers and isolated thunderstorms expected during Tuesday, with small hail being likely.
Behind this initial front, a burst of westerly winds is expected, before shifting back to the north-west ahead of a secondary front during Wednesday. This is likely to re-enforce strong to potentially damaging wind gusts to parts of eastern VIC, southern NSW and TAS late Wednesday and into Thursday. Heavy showers and isolated thunderstorms are likely, along with the potential for small hail.
Western parts of Tasmania are likely to see widespread falls of 20-60mm over the next 5 days with isolated heavy falls of up to and exceeding 100mm possible, which may lead to localised flash flooding, creek and river rises. Very cold temperatures are expected, particularly later into the week, has prompted numerous sheep grazier warnings for SA, TAS and VIC with the loss of livestock possible.
Snow is possible to elevations above 700m in western Tasmania over the next few days, while further snow falls of up to 30cm will be possible across the Alpine resorts in Victoria and southern NSW through to the end of the week.
Image 1, EC surface wind gusts, 3pm Tuesday 17th July 2018. Image 2, EC 5 day accumulated rainfall totals. Images via windy.com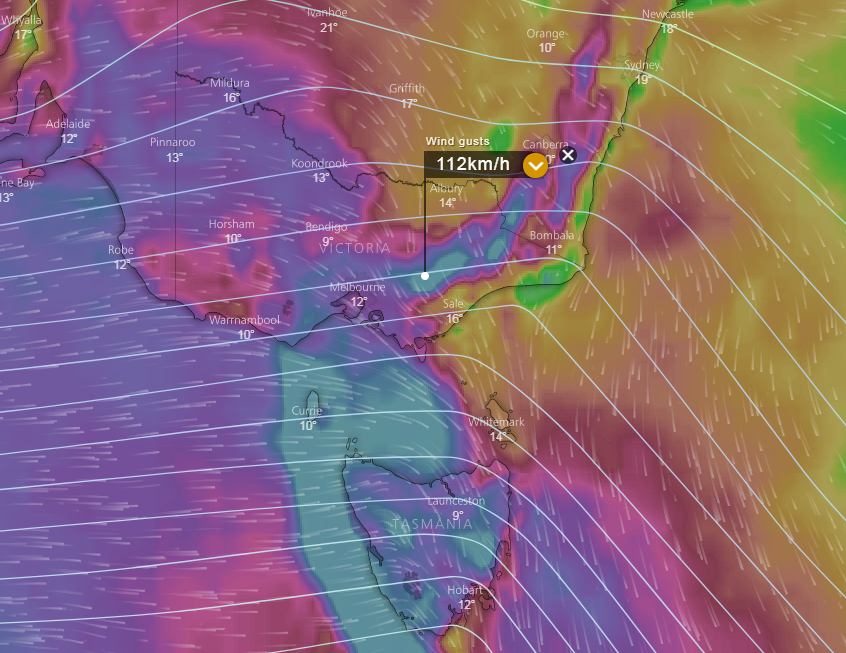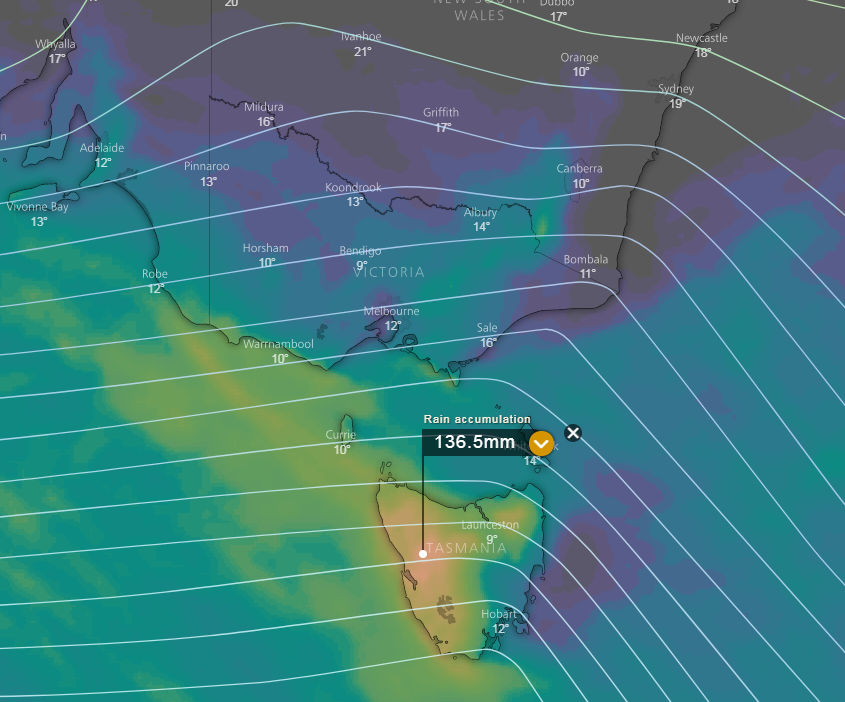 ---
Driest year on record for parts of NSW
13th July 2018
Drought conditions continue for many regions across New South Wales, with figures revealing some towns have experienced the least rainfall in recorded history for the January to June period.
Broken Hill and Cobar are having their driest start year on record with only 18.2mm falling in Broken Hill and 24.4mm in Cobar since the 1st of January 2018. Records go back to 1889 for Broken hill and 1902 in Cobar.
Wilcannia in western has received just 25.4mm to July 1st which makes it the driest start to a year since 1927 when they received just 19.2mm.
While the bulk of rainfall deficiencies have been recorded in NSW this year, several locations across southern QLD, northern VIC have seen their driest start for many years. Murravilly in western Victoria is having its driest year since 1911 when records began with just 50.8mm falling so far.
With no immediate rainfall expected, drier than average conditions are likely to extend through to October at least for many parts of NSW.
Image 1, 6 monthly deciles rainfall for NSW/ACT. Image 2, August to October rainfall outlook.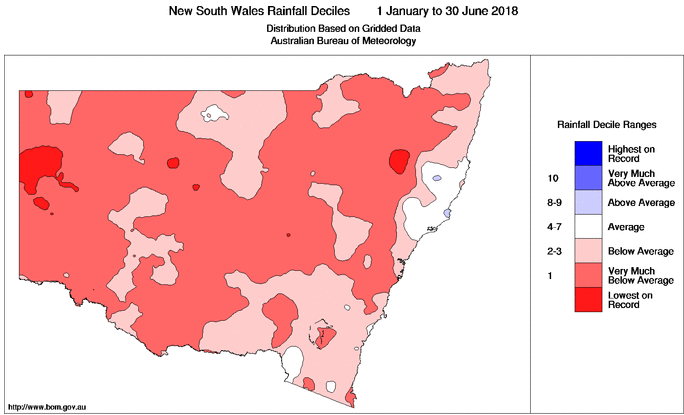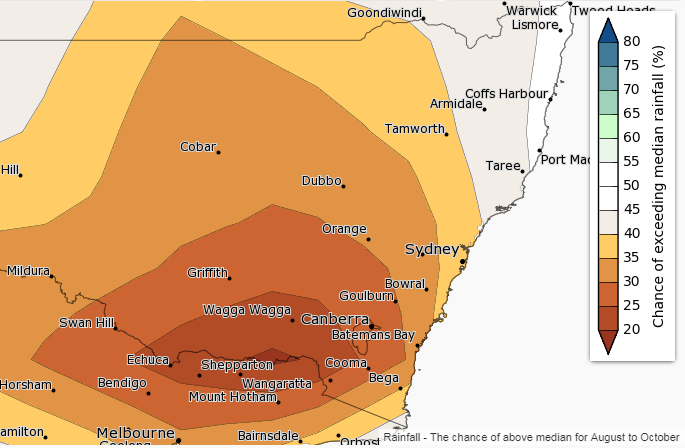 ---
Heavy rains tease South east Queensland
12th July 2018
There has been a lot of rain around southeast Queensland the last couple of days, but unfortunately the majority of this desperately needed substance has fallen offshore, with only the coastal fringe and islands collecting substantial totals.
Whilst cloudy conditions affected much of the region the last couple of days due to a low pressure trough, most areas collected only light totals, with widespread totals of 2-to-5mm inland to around Toowoomba, doing little to ease long term rainfall deficiencies.
Coastal areas (especially about the Sunshine Coast) and the islands fared better, with widespread falls of 50-to-80mm in the 24 hours to 9am today.
However, it could have been a completely different story had the trough that produced the rainfall been slightly further west, with radar signatures suggesting more than 150mm fell offshore.
Rainfall has cleared the region today as the trough moves further offshore, with dry conditions expected for at least the next week.
Image: Radar derived rainfall totals in the 24 hours to 9am, 12th July, 2018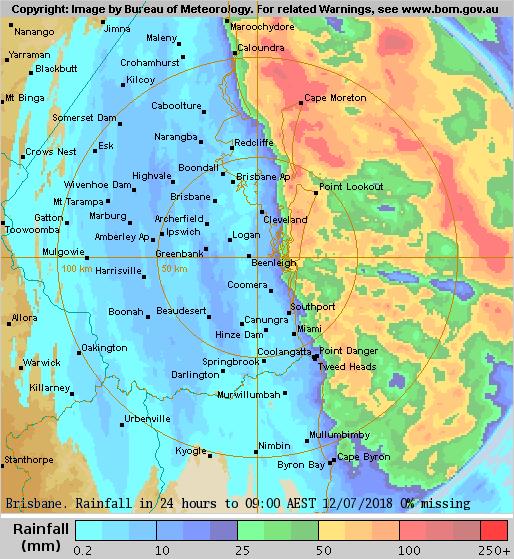 ---
Temperatures plunge across New South Wales
11th July 2018
After a relatively mild start to July when many areas experienced record early July warmth, the mercury has plunged across the state with some areas experiencing their coldest night in more than a decade.
A lingering cold airmass in the wake of a strong cold front that crossed during the weekend combined with clear skies and light winds last night, causing temperatures to fall below freezing in many areas.
Canberra dipped to -6.3 degrees, its coldest night of the year and more than six degrees below average, whilst Fowlers Gap in western NSW shivered through its coldest night since June 2006, dropping to-2.6 degrees.
Goulburn and Bombala both had their coldest night of the year as the mercury dived to -8 degrees.
Canberra is a chance to see some light flurries (mainly outside of the city) tomorrow morning as the cold pool crosses, with the higher parts of the central tablelands also a chance by the afternoon and evening.
As the cold pool reaches the central and southern NSW coast tomorrow afternoon (including Sydney), showers with possible small hail and localised thunder are likely to move in, causing temperatures to plummet into the low-to-mid teens by the time work finishes.
A high pressure system is likely to move in from Friday leading to clear skies and light winds, causing a return to frosty nights across large parts of the state.
Image: Minimum temperatures to 9am today across NSW (11th July). Source: Brisbane Storm Chasers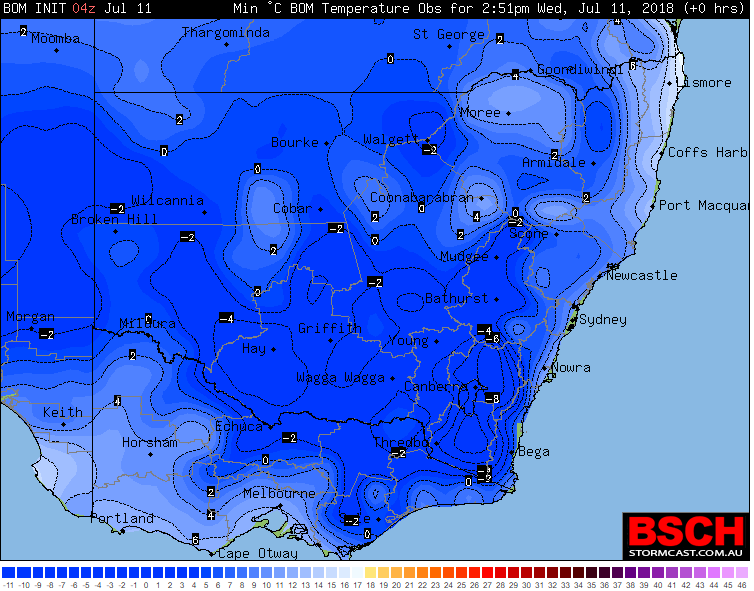 ---
Mostly fine conditions expected country wide
10th July 2018
Mostly fine conditions are likely across large portions of the country this week.
A low pressure system and a series of cold fronts moved across southern Australia late last week and across the weekend bringing snow, heavy rainfall for Tasmania, damaging winds and thunderstorms with small hail.
Behind this low, a large area of high pressure has moved into the region bring more settled conditions. Over the next few days, this high is likely to dominate the pattern across Australia, maintaining mostly fine conditions.
While an upper trough is likely to drift over Victoria and New South Wales mid-week, only weak instability will be present allowing for a few showers with small hail to develop. A few coastal showers are also possible across the southern QLD and northern NSW coastline as onshore winds develop across the region.
During the next several days, calmer conditions are likely to lead to widespread frosts across central and eastern Australia as minimum temperatures drop close to and below zero in some locations. This spells further bad news for drought stricken regions, with further follow up rainfall needed that fell during late June.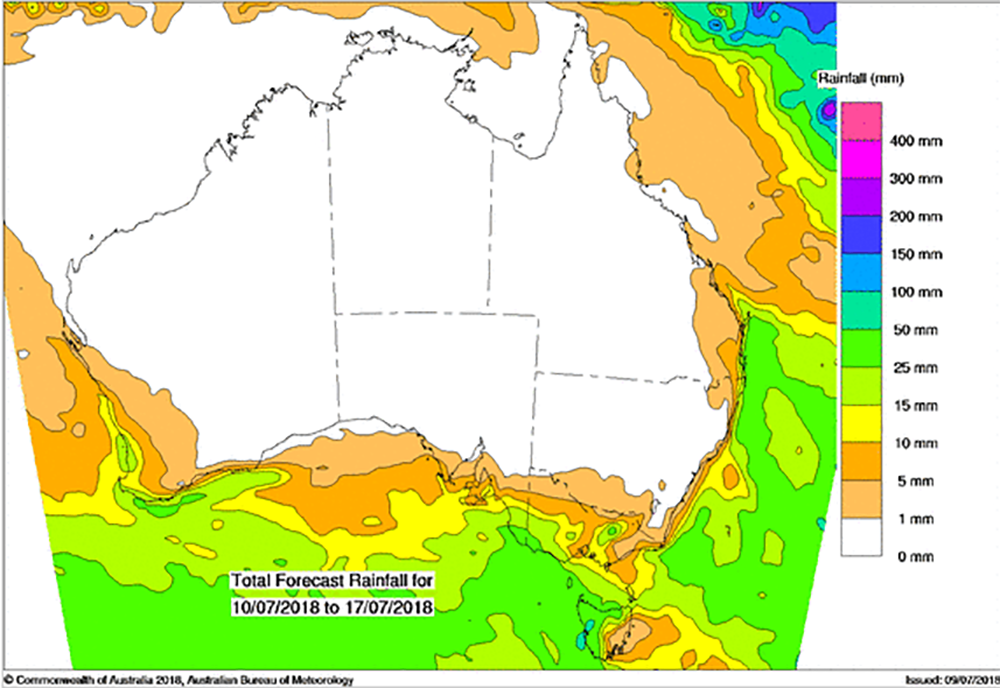 ---
Unprecedented early July warmth continues across NSW
6th July 2018
Record early July warmth has hit NSW for a second day in a row in central and northern parts of the state, as temperatures pushed close to ten degrees above average.
Unusually warm northerly winds sourced from northwestern Australia have been affecting NSW ahead of a strong cold front, leading to temperatures more typical of early spring in normally the coldest part of the year.
Sydney reached 24.8 degrees today (on top of 25.3 degrees yesterday), making it the warmest pair of July days on record, with yesterday also being the warmest day recorded in the first week of July in 159 years of records.
Tamworth reached 23.9 degrees, its warmest July day this early in the month, and just 0.1 degrees shy of its all-time July record (records go back to 1957).
Conditions will be significantly cooler tomorrow as the front sweeps across the state, apart from the northeast corner which will see temperatures reaching the mid 20s.
Observed maximum temperatures across NSW on Friday 6th July, 2018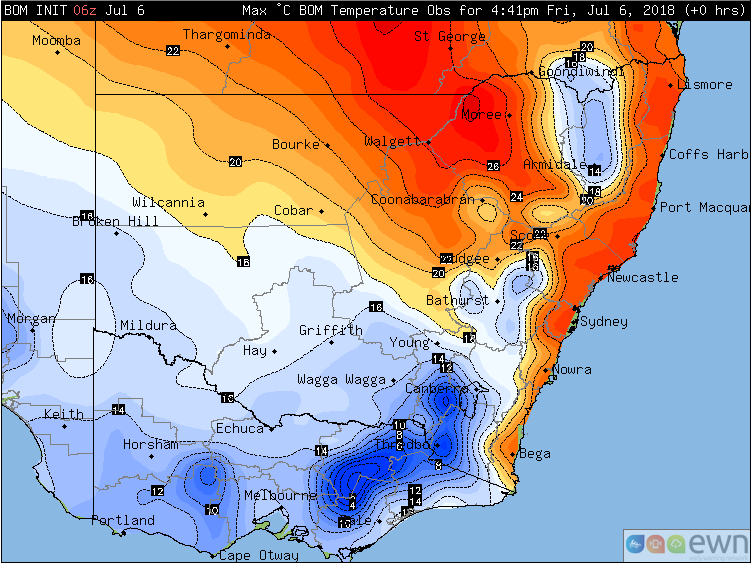 ---
Mid-winter warmth bathing NSW
5th July 2018
New South Wales is bathing in unseasonably warm mid-winter weather, with some areas experiencing their warmest day on record this early in July today.
Northerly winds ahead of a strong cold front (due to arrive this weekend) are dragging the airmass down from northern Australia, with temperatures soaring five to ten degrees above average across the state.
Lowland areas of the state have seen temperatures reaching the the low-to-mid 20s, whilst the tablelands have reached the mid-to-high teens, more typical of early spring than mid-winter.
Whilst no long term monthly records (longer than 30 years) have been broken, the warmth is especially unusual this early in July, with the coldest weeks of the year typically from the winter solstice through until mid-July. Sydney had its hottest day on record during the first week of July, reaching 25.2 degrees.
The warm airmass will continue to linger over the state tomorrow, especially over central-east and northeastern parts, where temperatures will reach the low-to-mid 20s again.
A strong cool change will push through from Saturday, causing much cooler conditions across NSW.
Observed maximum temperatures across NSW on Thursday 5th July, 2018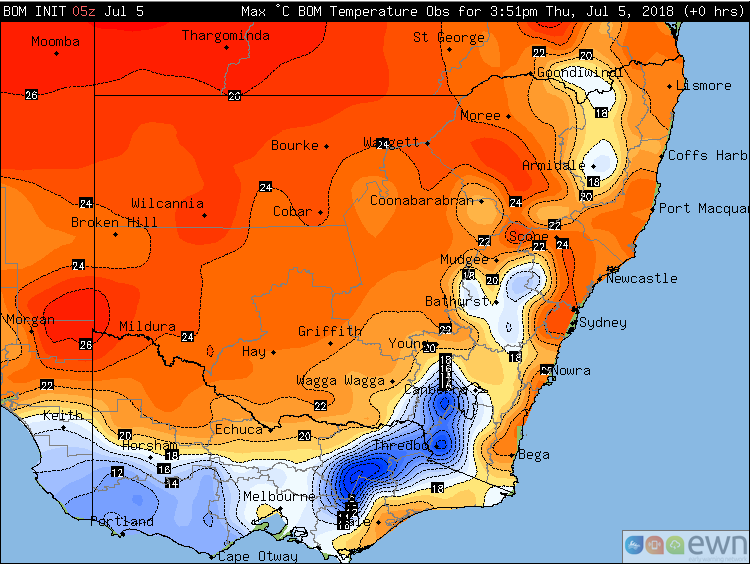 ---
Thunderstorms, rain and strong winds expected for Tasmania Thursday and Friday
4th July 2018
A strong low pressure system and a series of cold fronts are expected to move across TAS during Thursday and Friday.
Strong to potentially damaging wind gusts are likely to develop with the passage of the change during Thursday afternoon and into Friday, with strong north-westerly winds, turning westerly into Friday.
Thunderstorm activity is likely to approach the west coast late Thursday and overnight into Friday with the potential for a couple of storms to become severe with localised damaging wind gusts and small hail.
Widespread rainfall totals of 20-40mm are likely with isolated falls above 70mm possible which may lead to localised flash flooding and minor flooding for some locations.
Snow is expected on Friday on elevated terrain above 700m where 3 day accumulations of up to 30cm will be possible for Alpine regions.
Source: Windy.com EC model. Accumulated rainfall totals next 5 days. Surface wind gusts 1pm Friday 6th July, accumulated rainfall totals next 5 days.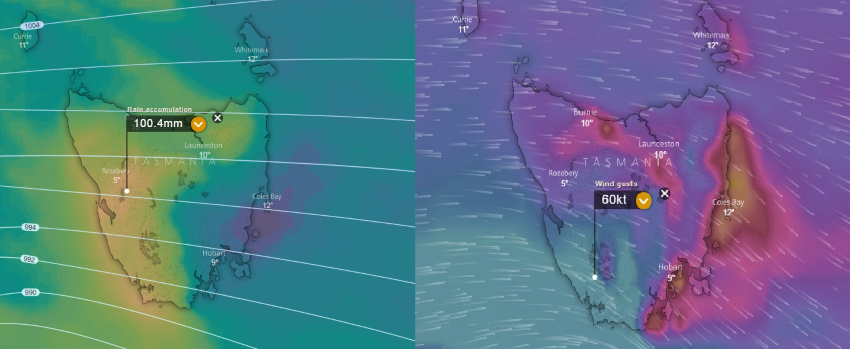 Source Bureau of Meteorology.
---
June warmer than average across the country
3rd July 2018
The Bureau of Meteorology has released its climate data for June. As a whole, June was warmer than average in Australia with a national monthly mean temperature 0.33 °C above average.
Day time maximum temperatures were warmer than average across Australia for June, with a national anomaly of +0.84 °C. Decile 10 mean monthly maximums temperatures (the warmest 10% of historical observations) were observed for parts of the North West Slopes and Plains of New South Wales, western Top End in the Northern Territory, Capricornia District in Queensland and scattered regions of the western Kimberley in Western Australia.
However, that national mean minimum temperature in Australia as a whole was 0.17 ºC below average for June. Minimum temperatures for the month were cooler than average across most of Victoria, western NSW, eastern South Australia, much of eastern QLD, the south-eastern Top End in the NT, a large region of southern NT and the eastern half of the Kimberley in WA.
Rainfall across the country was below average as a whole. Monthly rainfall was below average for the Kimberley and south-western quarter of WA, the majority of the NT, much of SA and eastern mainland states. June rainfall was very much below average (the lowest 10% of historical observations, decile 1) for some areas along the east coast of Australia, with the largest observed in the North West Slopes and Plains and Northern Tablelands districts inland of the Great Dividing Range in north-east NSW and Central East NSW.
A number of stations in New South Wales and Queensland received record low June rainfall, with quite a number more observing their lowest June rainfall for at least 20 years. June was a wetter than average month for the Pilbara, Gascoyne and parts of the Western Interior of WA, as well as the coastal Eucla District and a large portion of western QLD.
Anomaly charts of mean daily maximum, minimum temperatures and rainfall deciles for June 2018.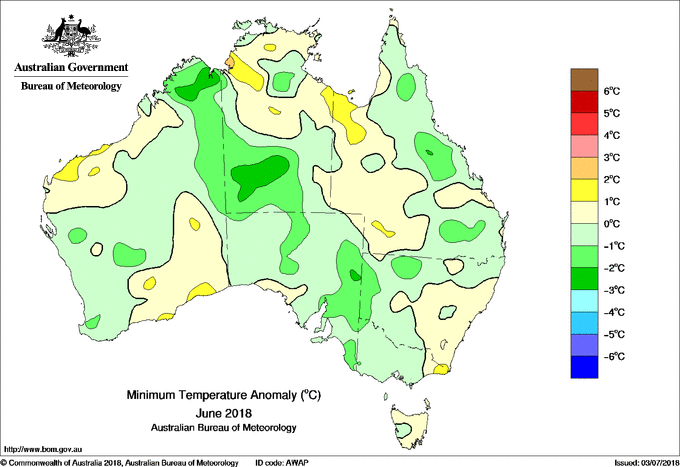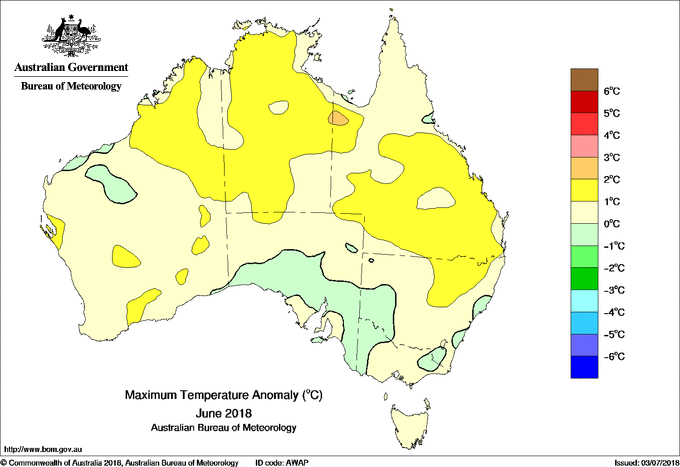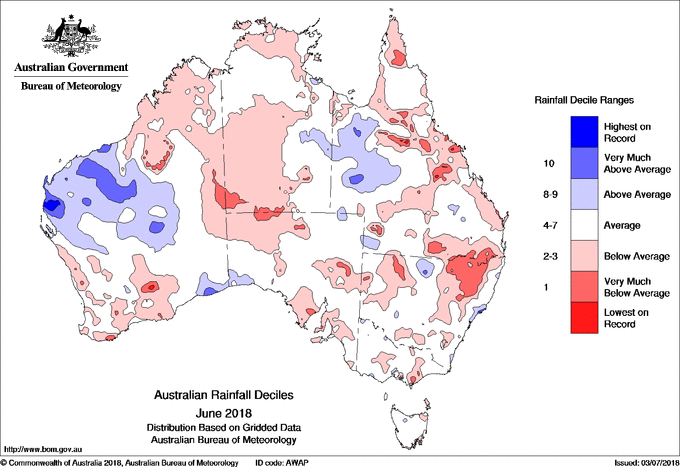 ---
Rainfall increasing for WA
2nd July 2018 2018
Moderate falls are beginning to develop across parts of WA this morning as a strong cold front moves across the region.
At present, a large rain band with widespread falls of 10-20mm have been recorded, with heavier falls in the 30-70mm range across the South West. While rainfall have generally been light across the Perth region this morning, more substantial activity is expected throughout Monday.
Heaviest falls to 9am this morning are: Margaret River 67mm, Beedelup 52mm and Milyeannup 45mm.
A gust of 106km/h was recorded at Cape Leeuwin at 3:22am Monday morning.
A SEVERE weather warning remains in effect for damaging winds and heavy rainfall that may lead to flash flooding over the next 24 hours.
EWN rainfall map to 9am AWST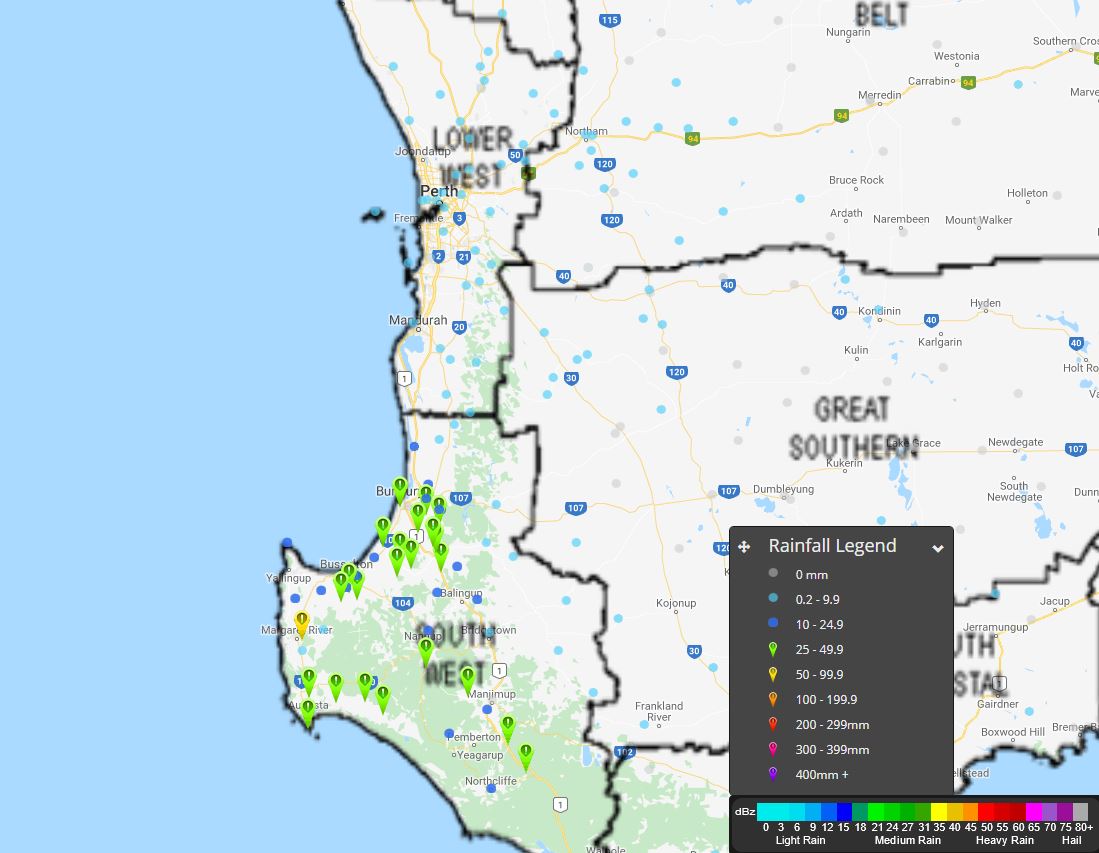 ---
WA set for an early July drenching
29th June 2018
Strong north to north-westerly winds will lash the South West Land Division of Western Australia on Monday as a low and cold front approach the region.
A band of heavy rain and thunderstorms are expected to accompany the frontal system, with widespread falls of 20-40mm expected, isolated heavy falls above 50mm possible.
Thunderstorm activity may develop with the initial band during Monday, with further storm activity likely into Tuesday as an upper cold pool moves into the region. A couple of these storms may become severe with damaging wind gusts and small hail.
A secondary front is likely to move across the area during Wednesday, reinforcing gusty south-westerly winds and showery conditions across the south-west of the state.
Bureau of Meteorology rainfall forecast, Monday 2nd July 2018.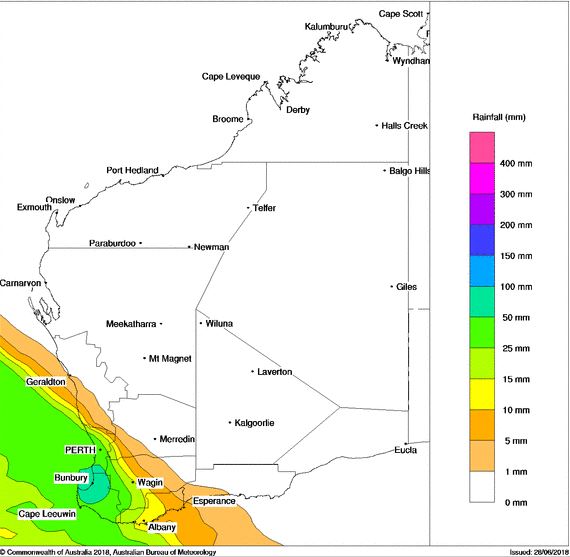 ---
Blustery changes sweeps through central-east NSW
28th June 2018
A cold front pushed through central parts of NSW today, causing temperatures to plummet as well as bringing gusty winds and thunderstorms to some areas.
The day began balmy for some, with Sydney and Cessnock reaching a top of 20 degrees, and Williamtown 21 degrees, three degrees above average for this time of the year.
However as the change moved through temperatures plummeted as showers and thunderstorms pushed through, accompanied by gusty winds on their arrival.
In Sydney the mercury was 18 degrees at 3pm, but as the change hit the temperature dropped by more than six degrees, falling to just below 12 degrees at 3:30pm. However, the temperature felt more like 4-5 degrees due to the associated winds.
In the Blue Mountains, the mercury only struggled to reach a maximum of 8 degrees due to cloudier skies earlier in the day, however as the change swept through it dropped to 4-5 degrees with the apparent temperature falling below freezing.
Tomorrow, mostly sunny skies are expected with temperatures returning close to average.
Sydney radar at 4:30pm EST, showing a band of rain and thunderstorms across the region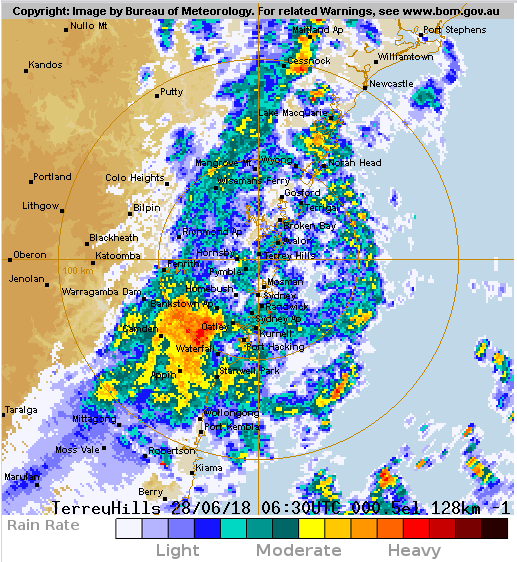 ---
Parts of Queensland shiver through their coldest day of the year
28th June 2018
Overcast conditions with rain periods blanketed southern Queensland yesterday keeping maximum temperatures well below average for some locations.
Brisbane hit a top temperature of 16.9c degrees on Wednesday which is 5 degrees below the June average of 21.9c. Toowoomba airport also limped to a top of just 12.1c.
Other notably low maxima included: 16.6C at Ipswich, 13.5C at Oakey, 14.8C at Roma, 14C at Dalby and 13.3c at Kingaroy, which were all around 3-6 degrees below the June average.
On Thursday, conditions have warmed up slightly across the region with maximum temperatures reaching into the late teens and early 20s for many locations.
Temperatures are expected to reach into the low to mid 20s during Friday, and into the weekend before slightly cooler conditions arrive early next week with a possible rain band.
Queensland maximum anomaly temperature chart, 27th June 2018. Source, Bureau of Meteorology.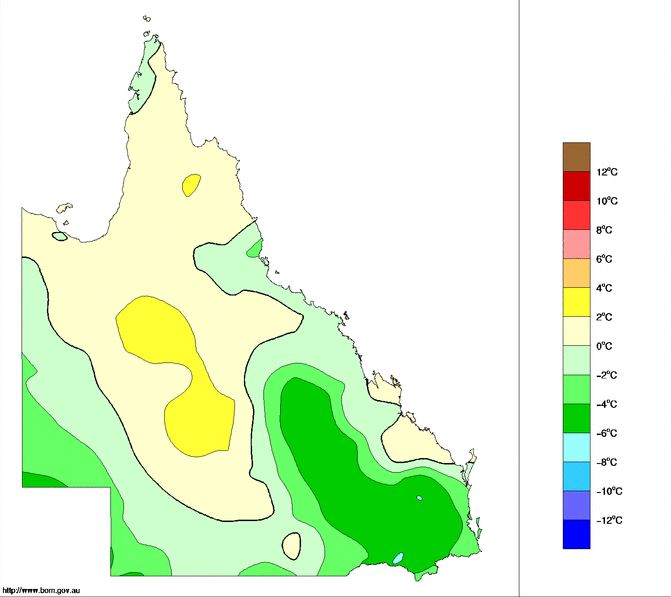 ---
Severe weather flashback, June 2007
27th June 2018
East coast lows (ECLs) are common across the eastern seaboard during the winter months, however in June of 2007, 5 ECL events rocked eastern NSW and VIC (7-10th, 15-16th, 19-20th, 26-27th, 28-29th) which is rare however not unprecedented.
While all 5 events affected NSW in varying ways it was the event from June 7th through 10th that was the most serious. This system crossed the NSW coastline around Newcastle with major flooding across the Hunter Valley (Paterson, Williams and Hunter Rivers), while flash flooding occurred in Newcastle and the Central Coast. The highest 24 rainfall total to 9am on the 9th of June 2007 was 293.6mm at Mangrove Mountain (Central Coast).
Damaging to locally destructive winds were observed with Newcastle recording a 124km/h gust while Norah head recorded the strongest gust at 135km/h. While the 76,000 tonne bulk ore carrier, Pasha Bulker was left grounded on Newcastle Beach as large swells battered the area.
Over 200,000 homes lost power across the region due to high winds and flooding with 9 fatalities.
6cm of snow closed the New England Highway in Murrurundi-Tamworth area on the Northern Tablelands.
Over the following weeks, further ECL activity ensued with further rainfall and snow recorded across elevated regions.
The grounded Pasha Bulker. Image courtesy of Kitty Hill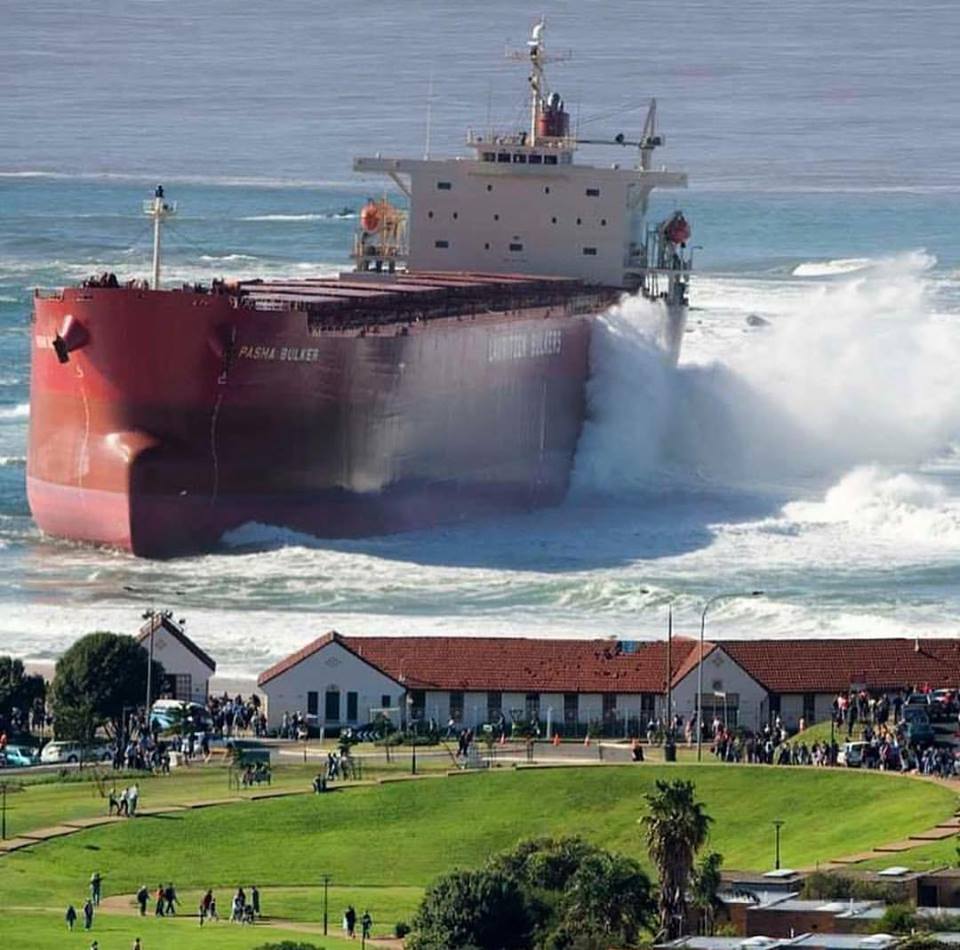 ---
Welcome rainfall expected for inland QLD and NSW
25th June 2018
After a dry start to Winter some welcome rainfall is likely to develop across inland parts of NSW and QLD over the next few days.
An upper trough will shift east today and slowly weaken over the coming days. This upper trough is expected to generate light patchy rainfall and isolated thunderstorms with its passage.
Four-day totals of 15-30mm are possible with isolated heavier falls of up to 50mm possible. The bulk of the rainfall is expected to peak during Wednesday when 10-20mm is likely, particularly with isolated thunderstorm activity.
While not drought breaking, it will be a welcome sight for rain starved locations. Next weekend early indications are hinting at the potential for a secondary system to move across the region with further patchy rainfall possible.
Total rainfall accumulation next 8 days. (Source: Bureau of Meteorology).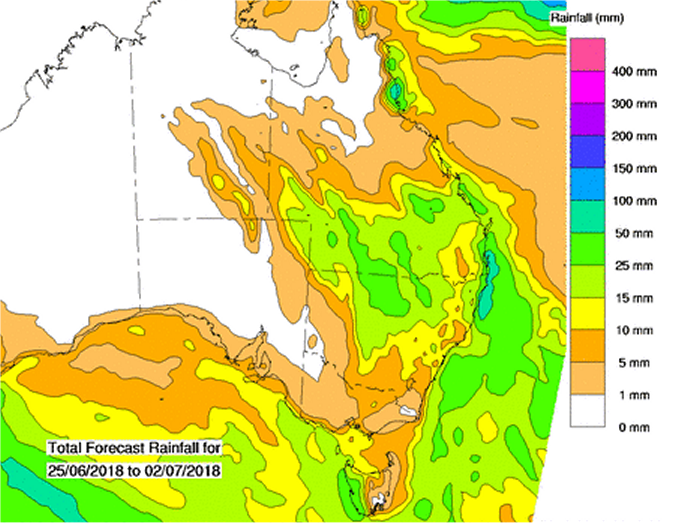 ---
Heavy showers drench central-east NSW
20th June, 2018
Much needed rainfall has soaked parts of central-east New South Wales in the past 24 hours, bringing the best rain in months to some areas.
A coastal trough combined with strong and gusty southerly winds to generate the showers, which produced widespread totals of 30-to-60mm (with isolated totals towards 80mm), most which fell on Tuesday afternoon/evening and overnight.
Sydney recorded 43mm in the 24 hours to 9am, its heaviest fall since March, whilst Newcastle recorded 54mm, its best rain since early April.
This has been great news for this part of the coast, which like many other parts of the country experienced a very dry start to the year. June is now the first month of the year Sydney has at least reached its monthly average, whilst some coastal parts of the Hunter have now recorded more than double their June average rainfall.
The rain and wind also led to the coldest conditions seen so far this winter, with many areas hovering between ten and twelve degrees most of the day, with wind chill making it feel several degrees colder.
Conditions will dry up over the next few days, before showers return early next week.
Image: Rainfall totals in the 24 hours to 9am today across the Sydney Basin (Source: Bureau of Meteorology)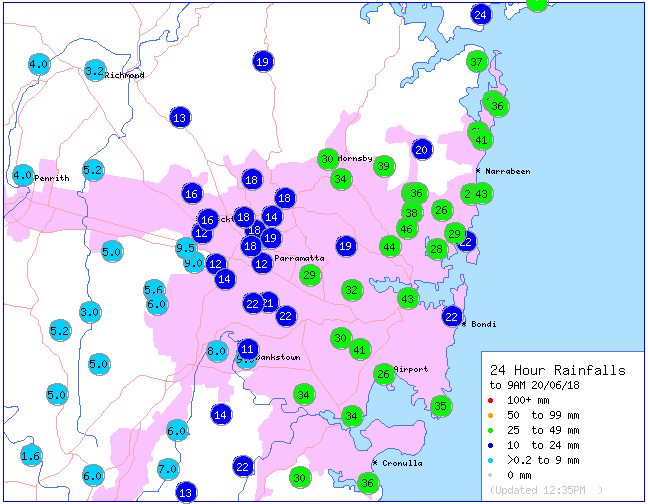 ---
Australia put on El Nino Watch
19th June, 2018
Australia has been put on an El Nino Watch, according to the latest El Nino-Southern Oscillation (ENSO) Wrap Up released by the Bureau of Meteorology today.
Whilst ENSO conditions are currently neutral, the eastern Pacific Ocean have continued to warm, a trend observed since April. However, warming has also been observed below the surface of the tropical Pacific, which is a good early indication of an El Nino event.
Computer models are also favouring the development of an El Nino event, with five of the eight models forecasting ocean warmth to reach thresholds by spring. As a result, the probably of an El Nino has been increased to 50% (considered an El Nino Watch).
El Nino events are well known to slacken the trade winds across Australia, bringing below average rainfall and above temperatures (due to reduced cloudiness) to the country, especially northern and eastern areas.
Given an already very dry and warm start to the year, this is bad news for farmers as increasing parts of the nation become drought declared, whilst others have seen their drought conditions worsen.
See the Bureau of Meteorlogy?s El Nino outlook at http://www.bom.gov.au/climate/enso/
Image: Sea-surface temperature anomalies showing the warming of the tropical Pacific Ocean in the last few months (Source: Bureau of Meteorology)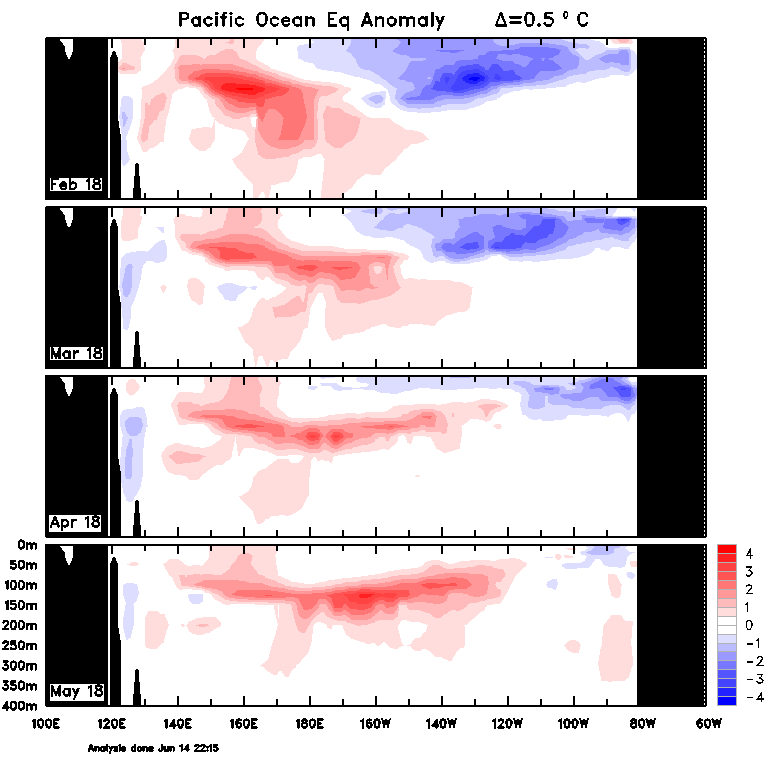 ---
Parts of Queensland experience coldest night of the year
18th June, 2018
A very cold airmass thanks to a complex low in the Tasman Sea has continued to drift north over the last 24hrs affecting parts of southern Queensland.
This cold airmass coupled with clear skies caused numerous locations to drop below zero across the Darling Downs, South East Coast, Maranoa and Warrego, Wide Bay and Burnett region this morning.
Oakey on the Darling Downs recorded the coldest minimum across the state with a staggering -4.9 just before 6am. Other notable overnight lows included: Wellcamp Airport -4.1c, Kingaroy -3.5c, Roma -3.4c and Beaudesert -1.6c.
Maximum temperatures are likely to struggle during the day with cooler south westerly winds moving into the region. Highs in the mid to late teens are expected across most regions of southern Queensland with Stanthorpe heading for a top temperature of just 10 degrees.
Temperatures will slowly begin to warm up from Wednesday onwards as a high moves into the Tasman Sea directing more onshore south to south-easterly winds
Minimum temperature for Queensland on the 18th June, 2018 (Source: Bureau of Meteorology)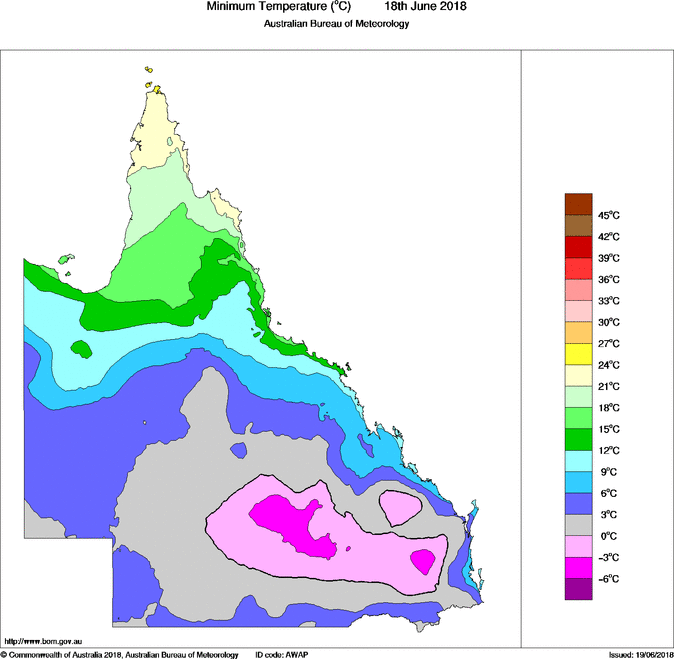 ---
What ingredients are required for thunderstorm development?
13th June, 2018
Fascinated by how thunderstorms develop? Ever wondered what the ?key? ingredients are for severe storms?
For the atmosphere to produce thunderstorm activity, four major ingredients are required. Here is a handy little acronym to remember: S.L.I.M.
S is for Shear: Winds that change in speed and direction in the atmosphere at different heights.
L stands for Lift. A frontal boundary or trough system. Basically, two masses of air that collide and cause the air to lift. A perfect example is what we call a dryline. Dry west to south-westerly winds meeting a more moist east to north-easterly flow, and where these two collide the air is forced to rise.
I for Instability. Where a parcel of air is warmer that it?s surrounding air and rises under its own buoyancy. Sounds complicated? If I was to boil a pot of water and put the lid on, then once boiled, remove the lid and watch how rapidly the steam rises towards the ceiling. That air is hotter than the surrounding air, therefore allowing it to lift.
Moisture. Last but not least, potentially the most important ingredient for thunderstorm development. The drier the air (measured by the dew point), the less chance of thunderstorm development.
When you put all these ingredients together, the recipe becomes ripe for thunderstorm development. That is when mother nature puts on a truly amazing show!
S.L.I.M: Shear, Lift, Instability, Moisture, GFS charts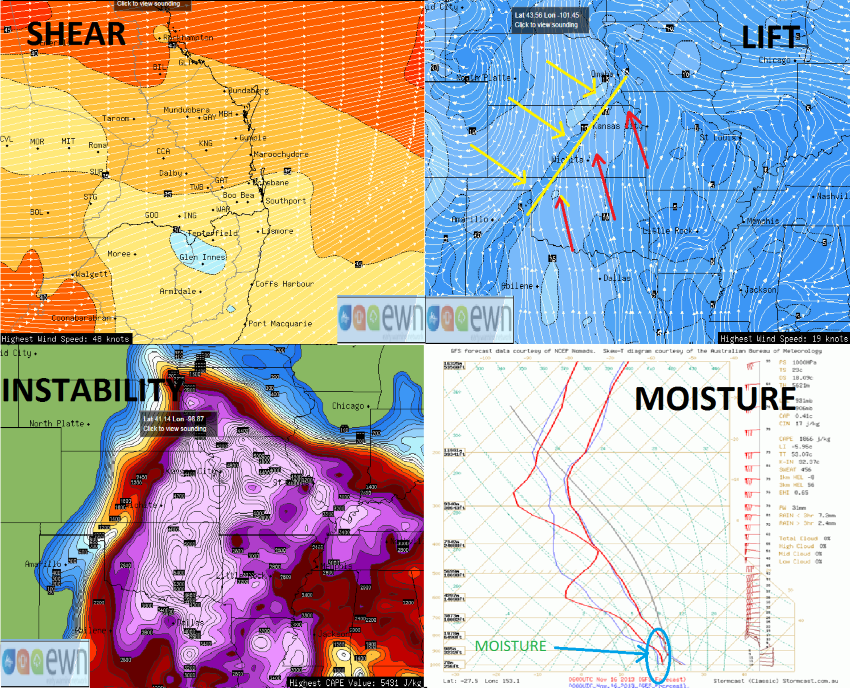 ---
Damaging winds punish VIC and NSW Alps
8 June, 2018
A vigorous northerly airstream has battered south-eastern Australia over the last 24hrs ahead of a cold front, bringing wind gusts in excess of 140km/h in alpine areas.
Thredbo felt the brunt of the winds hovering around the 100km/h mark for close to 3 hours with peak gusts reaching 141km/h right on 1:30am this morning.
Perisher experienced gusts exceeding 90km/h, while over the border in Victoria Mt Hotham received a 100km/h gust early this morning, with sustained winds above 90km/h for nearly 7 hours.
A severe weather warning remains in effect across these region, however conditions should gradually ease during the afternoon and evening
Image: Sustained winds, EC model, 1am 8th June 2018
---
Sydney receives wettest day in two months
6 June, 2018
Onshore winds and a developing coastal trough have delivered much needed rainfall for the east coast of NSW during the last few days.
32.6mm fell in the 24 hours to 9am Wednesday in Sydney, its wettest day since March 13th 2018 when 53mm fell. Over the last two months, the city has recorded just 46mm, well short of the average of 247mm.
Elsewhere, widespread totals 25-50mm have fallen across coastal parts of NSW during the last 24hrs, with Bodalla on the South Coast recording 52.9mm and Comboyne on the Mid North Coast picking up a much welcomed 65.5mm to 9am today.
While further heavy coastal showers and isolated thunderstorms will persist for the remainder of today and into Thursday morning, activity should slowly shift north during the next 24hrs.
The rainfall is very welcome across the region due to dry conditions over the last few months, although the rain is unfortunately not spreading far inland.
Image: Accumulated rainfall totals 24hrs to 9am Wednesday 6th June 2018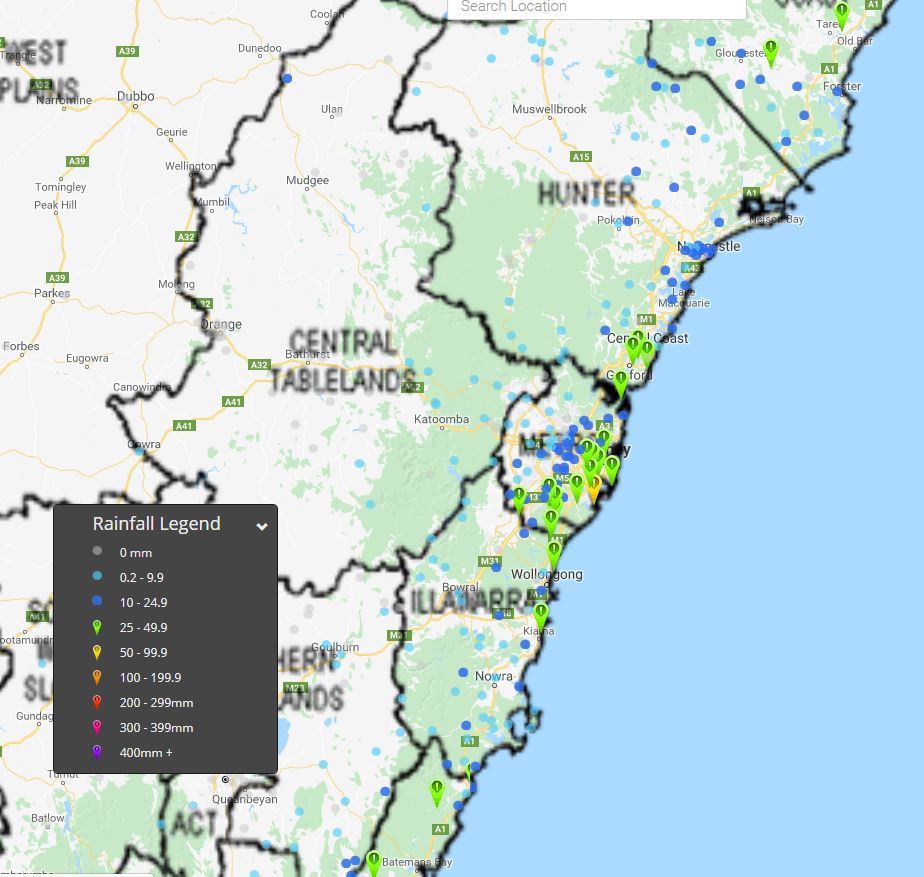 ---
Heavy rain to drench central-west and northwest WA
4 June, 2018
Heavy rain is about to soak parts of Western Australia?s Central-west, Gascoyne and Pilbara districts over the next few days, snapping the prolonged dry period and bringing the heaviest rain in years to some areas.
A low pressure trough (ahead of a cold front) that has been fed by moisture over the Indian Ocean will begin to move over the Central-West and Gascoyne from later tonight, before moving over the state?s northwest over the next few days.
Widespread totals of 30-to-60mm are likely over these regions, however some places are likely to see totals of 100-to-150mm, making it the best rain in years for some areas.
Whilst the ground is very dry, the hardened nature of the ground will make flash flooding more likely than usual, and despite the dry ground the rain is expected to cause riverine flooding in some catchments.
The rain will be very welcome, with many areas only seeing 25-50% of their average rainfall so far this year. Carnarvon had only collected a meagre 21mm to the end of May, well short of its average of 97mm. However, with 50-to-60mm expected over the next few days, the town can look forward to its best rain since March 2015.
The front behind this trough will also bring handy falls to southwest WA, with widespread totals of 20-to-50mm and the risk of damaging wind gusts tonight and on Tuesday.
Image: Accumulated rainfall totals until 00z 8 June, 2018